Tricon sells Banger Films doc, series abroad
Banger's docu-series Rock Icons (pictured) was among a raft of sales Tricon announced Thursday it had recently closed with international broadcasters.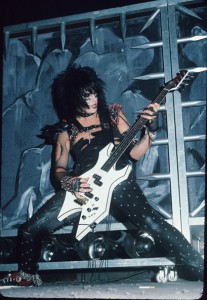 Toronto's Tricon Films and Television has announced the sale of several factual and documentary properties into multiple territories, including Banger Films' Rock Icons and its 2010 doc Rush: Beyond the Lighted Stage.
Rock Icons, a 10 x 30-minute bio series on legendary rock 'n' roll icons, and the Rush doc were picked up by Globosat Brazil. The Brazilian net also acquired Mars & Venus Today (1 x 60-minute). Rush: Beyond the Lighted Stage was also picked up by Foxtel Australia.
Accessible Media Canada acquired the fourteenth and fifteenth seasons of Blink Media Works' technology show Get Connected, while Al Hurra Middle East, Brand New Media Pan Asia and RTM Malaysia also picked up various seasons of the series from Tricon.
SRP's Sports Gone Wild, a show featuring remarkable sporting moments and bloopers, was sold to Sony Africa and Digital Factory Italy. Elsewhere, Sky Italy and AMC Iberia picked up carnal film documentary X-Rated.
Endless Media Group's Abandon Ship: The Sinking of the SV Concordia, an hour-long doc about the sinking of a floating school has been sold to Discovery Poland, while PTV Productions' Living Stories (6 x 30-minute), a doc following the six cancer sufferers, was acquired by Strong Technologies Africa.