Reynolds Mastin named head of CMPA
The well-known face of CMPA negotiations and legal matters takes over the reins from Michael Hennessy, who retires this week.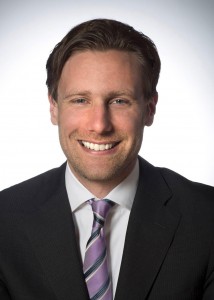 You know him as the face of CMPA negotiations and the guy unafraid to go toe-to-toe with broadcasters at major industry events.
But you'll now get to know Reynolds Mastin under a brand new title: president and CEO of the Canadian Media Producers Association.
Mastin takes over from Michael Hennessy, who starts his career retirement as of July 31.
Hennessy had been at the helm of the CMPA since 2012, leading the organization through a highly tumultuous time that most recently included the Let's Talk TV hearings and decisions.
Riding shotgun during all of this – and during the 2010 Terms of Trade negotiations – has been Mastin, who joined the CMPA in 2008 as associate counsel. Prior to that, he articled at the CRTC and served as legal counsel at the Canadian Association of Broadcasters (CAB). He was promoted to chief negotiator and chief legal officer at the CMPA in 2012.
Mastin has continued to hold an outspoken position in defense of Terms of Trade, which was removed by the CRTC as a condition of licence during the Let's Talk TV decisions. The CMPA fought the decision with an appeal in federal court but at Banff, where Mastin led a panel discussing the place of Terms of Trade in the Canadian TV industry and similar programs abroad, he revealed that the CMPA's case had been dismissed.
In a later interview with Playback, Mastin said the CMPA was not going to pursue further legal action but instead would work behind the scenes with the CRTC on identifying "appropriate safeguards" for producer-broadcaster relationships and finding new terms on which to trade. 
The CMPA has been on the search for a new leader for several months now, but Mastin ultimately emerged as the ideal candidate, said Jamie Brown, chair of the board of directors, in a press release.
"What impressed the selection committee and led to its unanimous decision was not only Reynolds' insight into where we are as an industry, but also his vision for how to transform the organization to achieve its goals in the future," Brown said.
For his part, Mastin said building new relationships and strengthening old ones would be a focus of his tenure, praising independent producers' ability to "forge partnerships and seize opportunities."
"I intend to build on these achievements  by strengthening relationships with our longstanding industry partners, both in Canada and abroad, while bringing into the tent the new players in content creation and distribution that are remaking the media landscape as we know it," he said in a statement. "We have an opportunity to create a better capitalized and more sustainable independent production sector that enables all stakeholders and partners to build success stories on new platforms in increasingly competitive global markets."
Photo credit: John Hyrniuk