Egoyan's Remember to bow at Venice
The 72nd edition of the festival will also feature Go With Me, a U.S./Canada/Sweden copro. (Remember pictured.)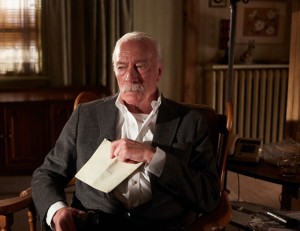 Listed at yesterday's TIFF presser as a North American premiere, it was revealed today where Atom Egoyan's Remember is getting its world premiere.
The film, a Canada/Germany coproduction, will screen in competition at the Venice Film Festival, which runs prior to TIFF from Sept. 2 to 12. 

Starring Christopher Plummer, the screenplay was written by Benjamin August and produced by Toronto's Serendipity Point Films and Berlin-based indie prodco Egoli Tossell Film.
The drama, which received financing from the Harold Greenberg Fund, is executive produced by Mark Musselman, Anant Singh, D. Matt Geller, Moises Cosio, Jeff Sagansky, Mike Porter and Lawrence Guterman.
Daniel Alfredson's Go With Me, a U.S./Canada/Sweden copro starring Anthony Hopkins, Julia Styles and Ray Liotta will also screen as part of the Out of Competition program. Canadian involvement in the film comes from B.C.-based Enderby Entertainment. Go With Me was also shot primarily in Enderby, B.C. last year.
Elsewhere, it was announced Tuesday the first feature from Vancouver-based director Hans Christian Berger, After Eden, will screen in competition in the Kuxta New Directors Award program at the 63rd San Sebastian International Film Festival. The program's winner will receive a prize of €50,000. The feature is written and directed by Berger and stars adult film actress Alyssa Reece. The festival runs from Sept. 18 to 26.