Pier 21 shoots The Beaverton pilot for Comedy
The televised adaptation of the satirical news website will be structured around a fake news broadcast of fabricated weekly events.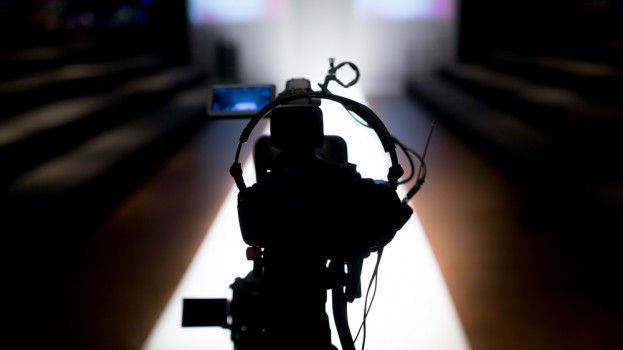 Laszlo Barna's Pier 21 wrapped production earlier this month on a pilot of The Beaverton, commissioned by Bell Media's Comedy Network.
The pilot and potential series are inspired by a satirical news website of the same name, and feature a satirical news broadcast of fabricated weekly events. The pilot was shot in Toronto from July 7 to July 10.
The producers pitched the project to Bell Media as a way for the media co to expand its working relationships with a wide range of comedians – the pilot alone has nearly 20 speaking parts. And there was a focus on young talent, he noted.
"We went out to the comedy community to find fresh, young faces, to find people you maybe haven't seen that much on television before. What we really want this to be is an incubator for the comedy community here," Detsky told Playback Daily.
The televised adaptation of the website was co-created by Detsky (Call me Fitz, Seed) and Beaverton website co-founder Luke Gordon Field and senior editors Jacob Duarte Spiel and Alexander Saxton. Pier 21′s Melissa Williamson also serves as executive producer and producer, with Paula Devonshire and Henry Sarwer-Foner (The Rick Mercer Report, Living in Your Car) also serving as producers.
Starring as co-anchors in the pilot are Emma Hunter (Mr. D, Just For Laughs) and Miguel Rivas (Meet the Family). Serving as correspondents in the pilot are Marilla Wex, Aisha Alfa, Donavon Stinson and Dave Barclay.
The Beaverton website has recently picked up steam online with January to June 2015 representing its best six-month period ever in terms of traffic, according to information provided by Pier 21. While the site rarely hit 200,000 page views in 2014, The Beaverton has only seen one month in 2015 where it earned less than 300,000 page views.
The pilot will be broadcast, but no decisions have yet been made about where or when it will air, a Bell Media spokesperson told Playback Daily.
- Image courtesy of Shutterstock