Cameras roll on The Space Between
The feature directorial debut from Amy Jo Johnson (pictured) is executive produced by Shaftesbury chairman and CEO Christina Jennings.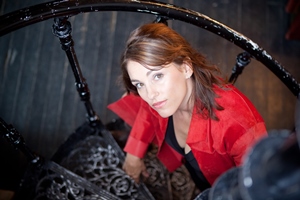 Production is underway on The Space Between, the feature directorial debut from Amy Jo Johnson with Christina Jennings attached to executive produce.
The feature, which was also penned by Johnson, will shoot through to July 26 in Guelph and Elora, ON. The cast for The Space Between includes Michael Cram (Flashpoint, Rookie Blue), Sonya Salomaa (Unreal, Durham County, Watchmen), Michael Ironside (Transformer Prime, Total Recall), Maria Ricossa, David Paetkau (Man of Steel, Goon), Jayne Eastwood (Haven, Little Mosque on the Prairie), Julian Richings (Orphan Black, One Drop), Kristian Bruun (Murdoch Mysteries, Orphan Black) and Julia Sarah Stone (Wet Bum). Johnson will also act in the film.
Last year, Johnson and producer Jessica Adams ran a crowdfunding campaign for The Space Between on Indiegogo that raised $133,990, well over their initial goal of $75,000. The Space Between was also named the 2014 Indiewire Project of the Year and were invited to the Tribeca Film Institute's All Access film and industry meetings.
The Space Between is produced with the financial participation of Telefilm Canada, which selected the project as one of 15 finalists for its Micro-Budget Production Program. The project also received financial support from Married to Giants, Alter Ego, Jam Post and the Canadian Film Centre, which chose The Space Between as its partner submission for the Micro-Budget Production Program.