Captain Canuck sets fall debut for season two
The web series based on the classic character will return with its all-star voice cast in time for Halloween.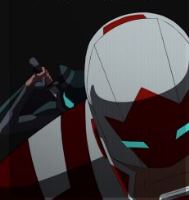 Chapterhouse Studios and Smiley Guy Studios have teamed up to produce a second season of the animated web series Captain Canuck, based on the comic book created by Richard Comely in 1976.
A trailer for season two was released late last month, and is available at Captaincanuck.com and Geeknation.com. The second installment of the series is titled Captain Canuck The Animated Web-Series: The Prometheus Protocol and will bow on Halloween in Halifax at Hal-con and in Toronto at an annual Halloween party hosted by comic book store Silver Snail.
The first season of Captain Canuck web series bowed on July 1, 2013, with many of the cast returning for round two. Season two will again feature an all-star voice cast, including Lost Girl's Kris Holden-Ried as Captain Canuck, Tatiana Maslany as Redcoat, Paul Amos as Mr. Gold and Laura Vandervoort as BlueFox.
Starting Nov. 2, one episode of the subsequent four episodes of the series will then be released each month. Each new episode will screen at Big B Comic stores in Niagara Fall and Hamilton before moving online to YouTube and Geeknation.com, said Fadi Hakim, Chapterhouse Comics publisher and executive producer on the series. Prodco Chapterhouse Studios is a subsidiary of Chapterhouse Comics, which publishes titles such as The Pitiful Human Lizard, Captain Canuck, Northguard and Beyond.
Captain Canuck: The Prometheus Protocol will be written by Kalman Andrasofszky, who also created the recent comic book reboot of Captain Canuck. Captain Canuck Incorporated creative director Paul Gardner and Smiley Guy Studios' director of development Mike Valiquette will direct the series. Captain Canuck Incorporated, founded in 2012 by Hakim and Richard Comely, owns the licence to Captain Canuck and was the company that produced the first Captain Canuck web series before the Chapterhouse group was formed.
Season two of Captain Canuck was self-financed by the production companies and corporate sponsors, while season one was supported by an Indiegogo campaign that raised just over $50,000. The budget for season two comes in at about $20,000 per episode.