Coming Soon: My Ex-Ex
Will a bubbly, engaging cast, a traditional media buy and carefully concepted artwork help get this "fun, raunchy romantic comedy" in front of its target audience?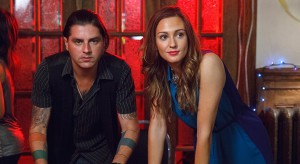 Coming Soon, an ongoing editorial feature from Playback, highlights distribution strategies for soon-to-be released Canadian films. Here, we speak to A71 Entertainment's Chad Maker and A71 Productions David Miller about the distribution strategy for Nathaniel Warsh's My Ex-Ex. Distributor A71 Entertainment is a joint venture of A71 Productions and Agency 71.

The film: In My Ex-Ex, protagonist Mary seeks out a psychic after she gets dumped by her boyfriend. The psychic casts a spell to reconnect Mary with an ex-boyfriend – expect the psychic doesn't tell her which one. Mary soon runs into and starts falling for her college ex-boyfriend, but soon her more recent ex decides he wants her back. The film stars Andre Bharti, Katherine Barrell, Emily Alatalo, Tamara Duarte, Ray Galletti, Randal Edwards and Jesse Camacho.
Production/distribution credits: My Ex-Ex is directed by Nathaniel Warsh and produced by Project AMB and Incident Pictures. Bharti wrote and executive produced the film. Ron Basch, Jessica Menagh and Warsh also serve as producers. A71 Entertainment is handling the Canadian distribution of the film in the theatrical and post-theatrical windows.
Distribution: My Ex-Ex will debut on Wednesday, July 8 in 18 Landmark cinemas across Canada as part of the Canadian Indie Film series in one-night-only event screenings. Cast and crew will participate in a Q & A session at the July 8 screening of the film in Hamilton, as much of the talent in front of and behind the camera hail from the area. My Ex-Ex will then have a week-long run in several independent theatres starting July 10, including Ottawa's Landmark Kanata, the Landmark Cinema in Whitby and the Carlton Cinema, the Revue Cinema and Kingsway Theatres in Toronto, with potential for holdover. The distributors are also currently looking to secure screens in Calgary and Vancouver.
"Hopefully, based on the reviews and the audience numbers, theatres will keep taking it," said David Miller, president of A71 Productions. Event screenings with Q & As with the cast and crew will be held during the opening weekend at the Carlton Cinema, as well as physic readings. Indie88 will also be hosting the opening night event at The Carlton on July 10. The large ensemble cast has a fun dynamic, Miller noted, which the distributors are hopeful will translate into strong audience engagement sessions post-screening.
Marketing: A71 Entertainment has partnered with women's lifestyle website She Does The City for a series of sponsored posts linked to My Ex-Ex, as well as a film review and a spot in the site's weekly newsletter. Ads for My Ex-Ex will also appear on the She Does The City website.
Other marketing for My Ex-Ex will be a mix of social media and traditional ad buys. The distributor has worked closely with the cast to have them leverage their social media followings to help promote My Ex-Ex (for example, Tamara Duarte, who also appeared on Degrassi, has over 10,000 followers on Twitter). On the traditional media side, the distributors are working with Suzanne Cheriton of Red Eye Media to help get the cast onto various morning shows and other publicity spots, including the appearance of one of the stars from the film on Indie88′s The Morning After show. My Ex-Ex will also be promoted via TV ad buys on CHCH, with Toronto's Indie88 doing My Ex-Ex-themed giveaways and contests. Ads will also air on several local radio stations in areas where the film will screen. Much like Berkshire County, a horror film A71 Entertainment released last month, the visual and audio elements of My Ex-Ex made it well-suited for a more traditional ad buy, said Chad Maker, president of A71 Entertainment.
"We are finding that the balance between the two works. In the way with Berkshire County where we explored traditional media with television and radio, we felt that this film works for it as well…This is a good, fun, raunchy romantic comedy where we have a couple of great sound bites that will work on radio really well and visual comedy stuff for television," Maker said.
Additional windows: The film will be available on iTunes and other VOD platforms likely by September, Maker said. Some of the concept art for My Ex-Ex was shot with an iTunes audience in mind to make it stand out to potential customers, Maker said. "It looks like a very easy rental to have a good time when you're staying in on a Friday night," Maker said. Between the film's theatrical release and the release on iTunes and other platforms, the distributors will also be rolling out various out-takes and extra content from My Ex-Ex on YouTube help keep the film top-of-mind with audiences.
Target audience: The target demographic of the film is 15 to 35 and skews slightly female, although Maker noted the raunchy comedy would appeal to both men and women. "If we had a giant budget for this movie, it would be a mix of Bridesmaids and The Hangover," Maker said.
What makes this film unique? Maker noted the film doesn't feel like a "typical" Canadian comedy and makes a point of pushing boundaries. "There are a couple of key scenes in this movie that (are going to generate) word of mouth buzz," Maker said
Budget and financing: My Ex-Ex was privately financed, and falls within the low-budget range.