Seven Canadian films to screen at Karlovy Vary
The Czech Republic festival takes place from July 3 to 11 and includes Canadian films from Francois Peloquin and Andrew Cividino.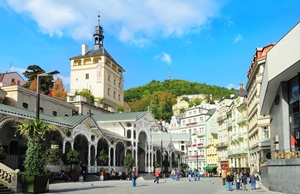 Seven Canadian films will screen at the 50th Karlovy Vary International Film Festival in the Czech Republic.
Receiving world premieres at the festival will be Le Dep, by Sonia Bonspille Boileau, 23 Kilometres by Noura Kevorkian and François Péloquin's debut feature Le bruit des arbres ("The Sound of Trees").
Péloquin's film will screen in the Grand Prix-Crystal Globe competition, while fellow debut-feature director Bonspille Boileau's Le dep will screen in the Forum of Independents competition. Kevorkian's film will screen in the documentary competition.
The Czech Republic festival, which runs July 3 to 11, will also screen Andrew Cividino's Sleeping Giant out of competition, in the Another View sidebar.
Also screening out of competition is Guy Maddin and Evan Johnson's The Forbidden Room in the Imagina sidebar and The Witch, a Canada/U.S. production directed by Robert Eggers and co-produced by Toronto's Scythia Films, will screen in the Midnight Screenings sidebar.
The lineup will also feature Les bons débarras from Francis Mankiewicz, which was originally released in 1980, in the Out of the Past sidebar.
Image courtesy of Shutterstock