Whistler selects six for feature project lab
Whistler Film Festival has named the six producers selected for its 2015 Feature Project Lab program.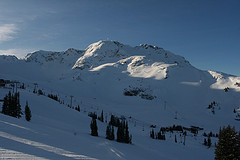 Whistler Film Festival (WFF) has named the six producers selected to take part in this year's two-phase Feature Project Lab.
Each producer taking part in the program joins with a project currently in development. The following have been chosen for the project lab: Michael Solomon of Quebec-based Apartment 11 Productions and the Imran Zaidi-written adventure story Bonechiller; Siobhan S. McCarthy of Red Trike Media and her heist thriller Glendale, written by Wade Kinley; Allison White of Newfoundland's Away Films and her family action thriller Hammer, written by Christian Sparkes; Ryan Reaney of Fear and Desire Productions from Ontario, for horror Masks, written by Peter Genoway; Laura Milliken of Ontario's Big Soul Productions for the Zoe Leigh Hopkins-penned rom-com Running Home; and Ralph Holt of Ontario's Hill 100 Productions' Shred, written by Walter Forsyth.
The focus of the program is to support Canadian producers in the script-to-screen development of their projects, as well as connecting them with useful industry contacts and gaining input on how best to pitch and market their projects.
The first phase of the program takes place in Whistler from June 22 to 25 with participants receiving feedback and guidance from lab facilitators. Sales agents, distributors and financiers will also provide support and advice during this phase.
The program's second phase takes place Dec. 1 to 4 and overlaps with the Whistler Film Festival, taking place Dec. 2 to 6. Candidates selected to advance from the first stage will take part in follow up meetings with advisors at the festival and summit. Here they will also have the opportunity to pitch their projects to U.S. sales agents and financiers, as well as connecting with an expanded network of international industry experts attending the festival.
The advisors involved in the program are Andy Reimer, partner and co-founder at Inception Media Group, Kevin Kasha, head of acquisitions, Starz, Elisabeth Costa de Beauregard Rose, U.S. and international sales and distribution executive, Voltage Pictures, and Nolan Pielak, head of Canadian operations, SVP international sales, Electric Entertainment.
Additionally, Tim Brown, EVP Feature Films, Breakthrough Entertainment and Peter Wetherell, president, Magus Entertainment, will serve as marketplace analysts and facilitators on the WFF Feature Project Lab.