PNP picks up Madame Bovary for Canadian release
The Mia Wasikowska- and Paul Giamatti-starrer is currently set for a July 3 release in Canada.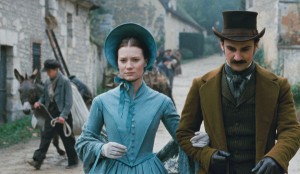 Pacific Northwest Pictures has acquired the Canadian distribution rights to Sophie Barthes' Madame Bovary.
The feature premiered at the Telluride Film Festival in 2014, and screened at TIFF in the special presentation program. Pacific Northwest picked up the Canadian rights to the film from Radiant Films International, which is handing the foreign sales rights for Madame Bovary. The feature is currently slated for July 3 release in Canada, and was released theatrically in the U.S. on June 12 by distributor Alchemy.
Madame Bovary stars Mia Wasikowska, Ezra Miller, Paul Giamatti, Rhys Ifans and Laura Carmichael and is based on a novel by the same name. The feature is produced by Joe Neurauter and Felipe Marino of Occupant Entertainment.
Madame Bovary is the latest female-led film to be added to Pacific Northwest's slate in recent months. The Vancouver-based distributor released Ride, directed by and starring Helen Hunt, in July following success it had seen with other female-driven titles such as Roger Michell's Le Week-End and Jason Priestley's Cas and Dylan, starring Tatiana Maslany alongside Richard Dreyfuss.
Correction: An earlier version of this story incorrectly stated Madame Bovary would be released on July 3 in the U.S. It was released on June 12.