Playback Canadian Film & TV Hall of Fame: Linda Schuyler
From Playback magazine: How Schuyler wooed generations of youth by understanding their angst and awkwardness - turning her shows into an international phenomena in the process.
This article appears in the Summer 2015 edition of Playback. Playback's Canadian Film and Television Hall of Fame recognizes the careers and achievements of outstanding individuals in the Canadian entertainment industry. To see past inductees and find out more, go here. 
Linda Schuyler's career arc starts like any good Degrassi storyline – with an embarrassing moment.
"I was in eighth grade, and my grandmother sent me my very first bra…" she starts, before pausing. "I don't know if I want to see this story in print!"
Gamely soldiering on, the Epitome Pictures executive producer picks up where she left off: the bra.
"It gave me a really nice shape and I was so excited. But two boys in my class just kept throwing Kleenex at me because they didn't think it was really me. I went home in tears, threw off my bra and vowed to never wear it again."
Fans of Degrassi Junior High might remember a similar thing happening to character Melanie Brodie (portrayed by Sara Ballingall).
At 67, Schuyler has spent most of her life in high school, having helmed the Degrassi franchise for 35 years (and taught middle school for eight years prior to that), so she gets that adolescence is awkward. It's full of ill-timed periods, bullying, pimples, first loves and depression. And it can feel incredibly lonely. She has built an entire studio around telling stories about loneliness and teen angst – from her successful Degrassi franchise, to Instant Star (on CTV and TheN) to The L.A. Complex (on Much and CW).
Schuyler, who is this year inducted into the Playback Canadian Film and TV Hall of Fame for her achievements in Canadian television, frames all of her shows around a simple message: you are not alone.
And 35 years after she spun out her short Ida Makes a Movie into the Degrassi franchise, picking up countless awards in the process, it's that message that's kept her in business.
Because while the face of youth might change, that overarching feeling of loneliness doesn't.
Her start in TV is atypical: after struggling to find films to show her class, Schuyler put on a NFB film featuring a young girl struggling with the alcoholism of her father. During a class discussion, one of Schuyler's students fluidly moved between the first and third person, sparking a red flag in the young teacher, who realized this student likely lived in an alcoholic household. After getting the student into counselling, a light bulb went off for Schuyler.
Working with her then-partner Kit Hood, Schuyler went to see a young entertainment lawyer named Stephen Stohn (who would later become her business and life partner), to inquire how to buy the rights to the book Ida Makes a Movie. Stohn gave her some free legal advice: ditch the lawyer and buy the rights yourself – which Schuyler did, for $200.
Schuyler and Hood spun Ida into 26 stand-alone The Kids of Degrassi Street episodes, which ran on CBC from 1979 to 1986. It was more anthology than series, with cast and characters rotating through once, maybe twice.
The show picked up a Prix Jeunesse in Germany in 1986, catching the attention of Kate Taylor, then-associate director of children's programming at PBS. She approached Schuyler about running the show on PBS, moving the kids from the streets to junior high (and later high school) – making it one of the first Canadian coproduced shows in the U.S ever. This was in the pre-internet era when information about "controversial" topics for teens (such as safe sex, addiction, drunk driving) was harder to find and PBS liked the idea of education wrapped in fictional storylines.
The Degrassi classic series, made on a budget of $250,000 to $350,000, per episode, had 68 episodes over five seasons (and a made-for-TV movie, which captured 2.3 million viewers on CBC) before getting cancelled in 1991.
But it wasn't the end for Degrassi – it moved into syndication on CBC, gathering a new following of teens. As the internet blossomed, unofficial chat boards and fan sites were set up, and the cult of Degrassi grew. So when Schuyler and Yan Moore, the original writer on the show, started shopping a revamped series featuring the now-teenage daughter of one of the original characters, everyone took their calls.
Degrassi: The Next Generation (TNG) landed at CTV with the first 15 half-hour shows made on a budget of $10 million. In 2010, the show switched to Much, and then again to MTV in 2013, where it now moves into its 15th season. (Editor's note: Since the publication of this story, MTV Canada and TeenNick announced Degrassi's cancellation after 14 seasons. A week later, DHX Media announced Degrassi: Next Class, which will bow on Family in Canada and globally on Netflix.) 
In all, counting syndications, the show has been on the air continuously for the past 35 years – meaning three generations of youth (Gen Xers, Millennials and Generation Z) have passed through the halls of Degrassi.
Throughout that time, Schuyler and Epitome, which she founded in 1992, have been if not ahead of social issues, then least on the leading edge, portraying what kids are talking about and pushing TV's boundaries.
Producers can appreciate what a boundary-pushing approach can entail. Schuyler recalls a storyline in which Spinner (portrayed by Shane Kippel) gets an erection while standing at the front of the class. The standards boards in Canada and the U.S. had a field day, she remembers, resulting in a long chain of emails featuring the all-time subject line, "Shaving frames off the boner."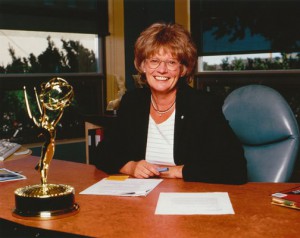 Degrassi also pushed boundaries from a story-telling perspective: with the launch of TNG, Epitome poured more than $1 million into a virtual school system, where fans of the show could sign up as a student, getting a virtual locker where they could share notes with other fans or interact with the characters – well before the advent of Facebook, or even MySpace. In 2013, it tried its hand at a Telenova-style, pushing out a dizzying 44 episodes over the course of one summer.
More recently, the show has been praised for its character Adam (played by Jordan Todosey) a transgendered female-to-male teen introduced in 2010, a story arc penned by Michael Grassi that earned the show a Peabody award and a prime-time Emmy nomination the following year. It was one of the first scripted series to feature a transgendered character in a main or starring role.
What's made the show successful, both in Canada and abroad, she says, is the storylines have always been portrayed by an entrenched character – not a drop-in-one-week, forgot-the-next guest star.
And many have to live with the consequences of their bad decisions. This creates a sense of well-roundedness, she says, but most importantly, it makes the characters relatable. The characters are not just the sum of their issues. Degrassi's Spike (portrayed by Amanda Stepto) is a good example: while the character gets pregnant, she also has to deal with discrimination for her bleached spiked hair, keep her grades up and navigate crushes – all separate from her status as a single teen mom.
In his essay "Swamp Sex Robots: Narratives of male pubescence and viewer (mis)identification," researcher Ryan Robert Mitchell says the original series was relatable because, for the first time, the actors weren't "especially attractive," and were age-appropriate – not played by an adult like 90210's Luke Perry (with a receding hairline to boot).
However, the transition to The Next Generation was criticized by some for its sleeker, less education-focused approach. However, she says kids today wouldn't accept the lower production values of the original series, nor in the age of Google, is an educational component as relevant to youth seeking information they're too embarrassed to ask about.
And even though the two shows have very different vibes, TNG's 15-year run speaks for itself as an unqualified success. At CTV, the series peaked at more than a million viewers, although ratings did decline in the move to Much and MTV, which faced struggles of their own in attracting next-gen viewers. The second made-for-TV movie Degrassi Takes Manhattan, earned its U.S. broadcaster TeenNick its highest night of ratings ever, with a total of 1.2 million viewers tuning in.
Despite the success, Michael Donovan, executive chair of DHX, says Schuyler and her team's achievements have often slid under the radar. "I don't think a lot of people realize it's the highest-ranked teenage drama in most countries in the world," he says. 
It's this immense popularity that sealed the deal for DHX, which acquired Epitome for $33 million in cash and shares in 2014. The studio is to become the production and distribution company's main youth live-action vehicle, and Donovan says he hopes they can repeat the success of Degrassi with more international hits.
At the core of it all, says Stohn, is Schuyler's innate sense of storytelling.
"When we drive down the street, I focus on getting from point A to point B. Linda is looking at the houses and asking 'What's going on inside? What are they talking about?'" he says. "She views herself as someone who can draw the true, authentic story [out of a writer or cast member] and encourage them to tell it."
Donovan echoes this, saying Epitome is a strong incubator of writers – which was the icing on the cake for the purchase.
"She represents absolute devotion to basic, core, authentic ideals," Stohn adds. "It always comes back to that core value that you are not alone. You are powerful and you can make choices. And if the writer veers off, Linda's always there to guide them back to that principal."
And, after 35 years as an independent producer, Schuyler herself is no longer alone.
The DHX deal was about four years in the making, and started when Stohn and Schuyler began seriously looking at the future. Though Epitome has been successful, launching seven new shows since its founding 20 years ago, Schuyler says there's a year-to-year struggle with financing. "There's no such thing as a five-year plan when you're an independent producer," she says. "We've done 14 seasons of The Next Generation, and I've had 14 different business models."
And while there might have been commitment from the broadcasters, there were tense moments as to whether the funding from the bank would come through ("You don't want to know how many times I've slapped collateral mortgages on my house [to make payroll]," she says.)
"I'd [drive] into the parking lot and my heart would sink as I count all the cars. And I think 'Oh my god, that represents someone's mortgage or university tuition. And I have to make payroll by Friday!'" she says. "That's when I say 'this is my last year in business. I'm not doing this. It's too heart wrenching, too ridiculous.'" And then financing comes through and everything is a-okay.
"Now, I have wonderful DHX there – so I don't have to worry about payroll anymore!" she says with delight.
The night the deal was signed Stohn and Schuyler were at the Epitome studios going over paper work well after midnight. Then, after 35 years, she had to sign her own resignation from the board. "And the tears started," Stohn says. "They weren't tears of regret. They were tears of relief."
But she's not done yet. She says there are plenty more stories to tell (she's eyeing storylines on consent and race now). "This is not my obit," she says. "This is not my retirement."