The Healer squeezes in NS shoot ahead of credit changes
As production of the $6.5 million film kicks off in Lunenburg, Spanish producer Enrique Posner on financing the film under the old regime.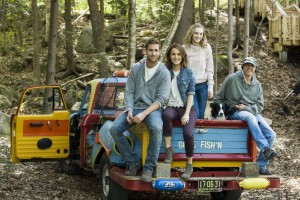 The story of Nova Scotia-shot The Healer is one that reads like something of a eulogy for the province's pre-spring-2015 tax credit.
With a modestly budgeted, privately funded film in hand to shoot, Spanish producer Enrique Posner and his partner Paco Arango quickly honed in on the province thanks to a film and TV tax credit that previously could go as high as 65% and was applicable mainly to labour-based spend.

It was a critical differentiator, Posner told Playback Daily
"Because the film is financed entirely with [private] equity and no pre-sales, we were looking to maximize the amount of money we could get out of a tax credit. It was a big driver of making a decision on where to locate the film," he said.
"If there had been uncertainty at the time regarding what the province had to offer, that very well may have impacted our decision to be here…one worries about that going forward," Posner said of the recent tax credit changes in Nova Scotia.
After writer/director/producer Arango went to Nova Scotia about a year ago to scout locations, he was so enamored with the province he decided to rejig the script so the film was set in Nova Scotia. To help bring the production of the film to province, the now-defunct Film and Creative Industries Nova Scotia connected Arango and Posner's shingle, ESP-62 Production, to Halifax's Topsail Productions.
Metaphoically speaking, the shoot slid in under the grandfathered tax credit regime with mere seconds to spare, kicking off this week in Lunenburg, N.S. All shoots after July 2015 will be under the new regime, based on a fund applicable to 25% of spend in the province.
While Topsail Productions came on board the film as a service producer, Posner and Arango decided the prodco's contributions were so significant they gave partners Michael Volpe and Georgina Neville producer and associate producer credits on the film, respectively.
The Healer, with a budget of $6.5 million, was nearly entirely financed via Spanish private equity. Posner characterized the film as an "orphan" in terms of nationality – there is not enough Spanish talent attached to characterize it as a Spanish production and vice-versa for Canada. A distributor has not yet boarded the project, as the filmmakers want to shop the film once a final cut is completed, Posner said.
The Healer stars Oliver Jackson-Cohen (Dracula, Mr. Selfridge), Camilla Luddington (Grey's Anatomy, Tomb Raider), Jorge Garcia (Hawaii 5-0, Lost) and Jonathan Pryce. Production is slated to wrap up in Nova Scotia by July 15.