A new play on IP: marbleLive's 'amazement parks'
From Playback magazine: marblemedia's Mark Bishop and entertainment lawyer John Barrack on the origin story and strategy behind their waterpark play.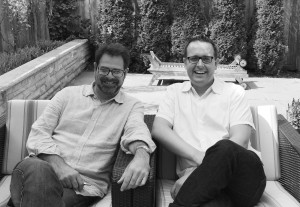 This article originally appeared in the Summer 2015 edition of Playback
They're calling it an Amazement Park.
Where TV IP meets play and super-speed waterslides meet slick business plans. And where industry vet John Barrack and marblemedia co-CEO Mark Bishop (pictured) – part of a new business entity called Amazement Parks Canada (APC) – are planting a stake in the future of entertainment.
First revealed last year, APC's flagship entertainment venue promises to be an over 100,000 square-foot indoor-outdoor water-themed amusement park with interactive digital media at its core. Not yet named, the park will be located in the Greater Toronto Area (GTA), which serves a catchment area of 6 million people within a 50-kilometre drive. Ground is slated to be broken in 2016.
The idea for the approximately $60-million park was hatched two years ago. Barrack, an entertainment lawyer by trade and former COO and CLO at the CMPA, and Bishop, who runs marblemedia with co-CEO Matt Hornburg, saw the writing about the future of TV in Canada starting to appear on the wall.
Selling half-hour kids shows to broadcasters in Canada wasn't going to cut it as a stand-alone business model (even with distribution thrown in). Something new was needed.
And something new was needed in the GTA as well. Before Ripley's Aquarium opened in 2013, virtually nothing on a large scale had opened in the area since Canada's Wonderland in 1981. (Great Wolf Lodge is in Niagara Falls and is indoor-only.) "There was a real lack of tourism inventory, especially on a year-round basis within the GTA marketplace," Bishop says.
"Canada's Wonderland has a tremendous waterpark but it's seasonal and outdoor. We don't have anything else in the GTA," Barrack adds.
The vision in place, the duo assembled a team of experienced execs and recruited the advisement of tourism-attraction veterans such as founding Canada's Wonderland GM Barry Jones and Attractions Strategy Group principal Dave Taylor, whose previous roles include president at CN Tower Ltd and the Hockey Hall of Fame, as well as GM/AGM of Massey Hall and Roy Thompson Hall. Just recently, Oakville-based retractable-roof manufacturer Open Aire boarded the project as a financial partner as well.
What they are building promises to push the boundaries of traditional entertainment and how IP can be stretched and created in the modern digital world.
"We looked at where the television business is going and where the future of entertainment is going and what we see is a collision between virtual and physical worlds," Barrack says. "That is really where we have this great opportunity because we know that we can change the theme and character of the park depending on who's using it, at any given time."
What will allow this is an approach that sees digital tech built into every aspect of the traditional water park experience.
The park's beating heart is an RFID wristband, which will power and customize the guest experience. Walt Disney has something similar in its MagicBand RFID wristbands, introduced last year, which give guests access to hotel rooms and rides, and pre-paid meals.
The APC wristband will go even further. Tied to a guest profile and database, set up online prior to the guest's arrival and/or at digital check-in stations or mobile devices throughout the park, APC will then tailor the park experience to the individual guest.
Utilizing the park's screen-dense design, a young guest could be greeted by Opie (of marblemedia's Hi Opie! TV property), while an older guest would have something more age-appropriate. Going further into the park, individual attractions will be customized. The slides, for example, can be customized with different theme music, colours and video projections, all triggered by the RFID bracelet. The bracelet too can gamify the park experience, tracking slide-speeds, games won and tracking, transferring and sharing photos and videos captured in the park.
Which all begs the question: is the park going to be a showcase for marblemedia IP only, much like Wonderland's Paramount partnership forever tied the notion of Top Gun to roller coasters for a generation of Ontario park-goers?
Yes and no. Bishop confirms that yes, the park will showcase marblemedia IP – this is the company, after all, that brought Splatalot!, Japanizi Going Going Gong!, Skatoony, and Ride or Wrong (an amusement-park-based quiz show) to life.
But the DNA of the park is constant change, so the park itself will not be tied to a specific IP (there will be no permanent Hi Opie! slide, for example). That opens the door for third-party IP partnerships to be established, says Barrack.
"We can see any number of partnerships evolving with IP owners in Canada and internationally to really reinforce their brands and IP in a novel way. We're creating the park as a new platform both for content as a showcase and for licensing and merchandising opportunities in a way that we really haven't seen before here in Canada."
IP is even being developed for the park itself: already in the works is an unscripted series based on park employees and a live concert area from which live concerts could be broadcast online or on TV.
Perhaps most significantly, the Amazement Park concept is built for evolution and replication.
"This is our prototype but with our strategic equity partners, we are looking at a national strategy to roll out this concept across Canada," says Barrack.
"Some may be slightly different than what we're doing [in the GTA] – maybe themed differently, maybe a different target, older or younger. From the market research that we've done and the investment community that we've been talking with, there's a real desire to not just limit our thinking to one location but to actually look at eight to 10 locations across the country as we move forward."
It would be easy to say the sky's the limit for Barrack and Bishop's brainchild.
But in their world, even that is likely to be retractable.
Editor's note: The print version of this story is missing the last line. Which this editor found particularly disappointing, since it's the punchline.