Walton boards New Metric's The Devil You Know
Well-known writer Karen Walton will pen the script for the project in development, with author Elisabeth de Mariaffi acting as consultant.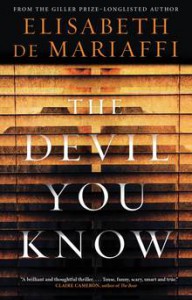 New Metric Media has signed writer Karen Walton (Orphan Black, Flashpoint, Queer as Folk) to adapt Elisabeth de Mariaffi's thriller The Devil You Know for a TV series.
Film and TV writer Walton will pen the one-hour dramatic series with de Mariaffi acting as consultant. New Metric announced its option of the novel two months ago.
The book, which was released earlier this year, follows rookie crime reporter Evie Jones as she is assigned to follow the Paul Bernardo murder investigations. Still haunted by the murder of her childhood best friend, the 21-year-old reporter discovers her friend's killer may still be out there and coming for her.
The agreement between New Metric Media and Walton was finalized about three weeks ago. There are no broadcasters on board the project at this point, said Patrick O'Sullivan and Mark Montefiore of New Metric Media in a joint interview. However, De Mariaffi and Walton have already started communicating and talking creatively about the project and where they see the show going, O'Sullivan said.
De Mariaffi is represented by Transatlantic Agency's Samantha Haywood, while Jennifer Hollyer of The Hollyer Agency represents Karen Walton.