Nickelodeon boards Nelvana's Mysticons
Production on the girl-focused action series is set to start later this year, with The Topps Company's Michael Eisner and Noel Bright attached as executive producers.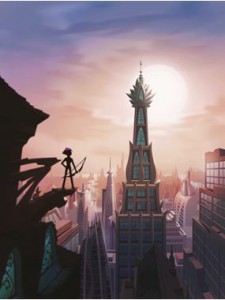 Nickelodeon has signed on as the global broadcast partner for Nelvana's Mysticons, a girl-focused action series set to start production later this year.
Mysticons is slated to make its global debut in 2017, with Nickelodeon broadcasting the series worldwide including in the U.S. Nelvana Studios will work closely with a number of partners on the production of the series, including The Topps Company, a trading cards manufacturer that was acquired by Michael Eisner's Tornante Company and Madison Dearborn Partners in 2007.
Eisner and Noel Bright will serve as executive producers for The Topps Company along with Corus Entertainment's Doug Murphy, Colin Bohm and Irene Weibel. Mysticons is written by Sean Jara, whose previous credits include RedaKai, Hot Wheels: Battle Force 5 and The League of Super Evil.
The half-hour animated series is targeted to girls over the age of six, and follows the stories of four girls who transform into warriors and undertake a quest to find a magic tome called the Codex. When development on the series was first announced back in April 2013, Mysticons was described as a boys-focused property targeted towards kids aged six to 11 years. However, earlier this year, the producers decided to pivot the focus of the series, said Nelvana's Andrew Kerr.
"We are excited about creating a new series in Mysticons that will help to define a wholly NEW genre – Girls Action. We are believers in providing girls with rich storytelling, mythologies and consumer product experience via animated content. It's a leading edge position within the industry for Nelvana and we're thrilled to proudly reference this new genre as specific (and overdue) for girls," Kerr told Playback Daily.
Playmates Toys (the company behind the line of Teenage Mutant Ninja Turtles action figures) is on board as the global master toy partner for the series.