Banff '15: Amazon's Joe Lewis on crafting a 'house style'
The head of original programming at Amazon Studios discusses how the studio is customizing its production and storytelling process for a binge-watching world. (Transparent's Jill Soloway and Jeffrey Tambor pictured.)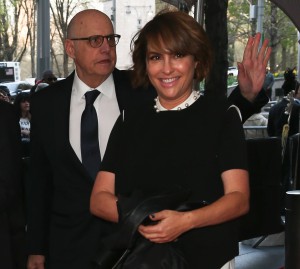 With Amazon Studios' Transparent the undisputed breakout hit of the last six months, there was much anticipation at the Banff World Media Festival for this morning's Q&A featuring the studio's head of original programming, Joe Lewis.
In conversation with The Hollywood Reporter's TV critic Tim Goodman, Lewis dived surprisingly deeply into the Amazon Studios' creative process, discussing what the studio is looking for and how it is striving to stand out in an era of "peak TV," in Lewis' words.
Describing the current long-form streaming trend as "Day 1″ of a new TV ecosystem, Lewis said the nature of viewership has a profound effect on how Amazon is approaching its content creation from the script stage. It is, he said, driving the creation of a "house style" at the studio – a storytelling style unique to the service and one he'd like to see define it to a certain degree.
For Transparent, he said, the original spec script had Jeffrey Tambor's transgendered character coming out to his family on the eighth page of the script. "For a traditional TV show, that makes sense," Lewis said. "But we took that reveal and put it in the last five seconds of the show."
That change, he said "is not something you'd be able to do in traditional television if you had to wait a week for people to come back. But the binge model lets you tell stories in a completely different way.
"We might be at peak TV right now and the only way to break out is not just high quality [programming] but something you can't get anywhere else."
The influence of the new binge-friendly structure even extends to Amazon Studios' table reads. Of its newest series, Red Oaks, Lewis said he had the writers and cast do a "binge table read" of the whole series on a Sunday afternoon (to the cast and writers' chagrin, he noted). The goal was to catch gaps or catches in the script that may have worked okay in a week-to-week episodic story structure but creating glaring holes in a binge model.
Overall, Lewis said he views Amazon Studios' series as a "five-hour movie." And in a film, the actors and writers know exactly where they're going to start and how they're going to finish. And if you're viewers are watching a TV series in the same style as a feature film, it makes sense to approach it in a similar fashion.
For anyone eyeing an Amazon Studios greenlight out of its unique public pilot process, having a complete vision of what a show will look like as it unfolds is a critical distinction, he noted.
"It has to be an Amazon show when it comes in: hyper-serialized, cinematic and dramatic in some places. It can't be all comedy all the time," he explained.
"We think a lot about where the show is going and we drill down on it a lot more in pitches and when they become pilots. We know exactly where the first season will end, what the future could be for the show. I flock to those creators that have it in their head. The way to not sell us a show in a pitch: do you see this as X or Y? And people say, what do you guys think? That's the quickest way to end a pitch with us."
Photo: Producer Jill Soloway (R) and Jeffrey Tambor attend the 2015 Time 100 Gala at Frederick P. Rose Hall, Jazz at Lincoln Center on April 21, 2015 in New York City / Debby Wong / Shutterstock.com