CineCoup orders doubles for its second round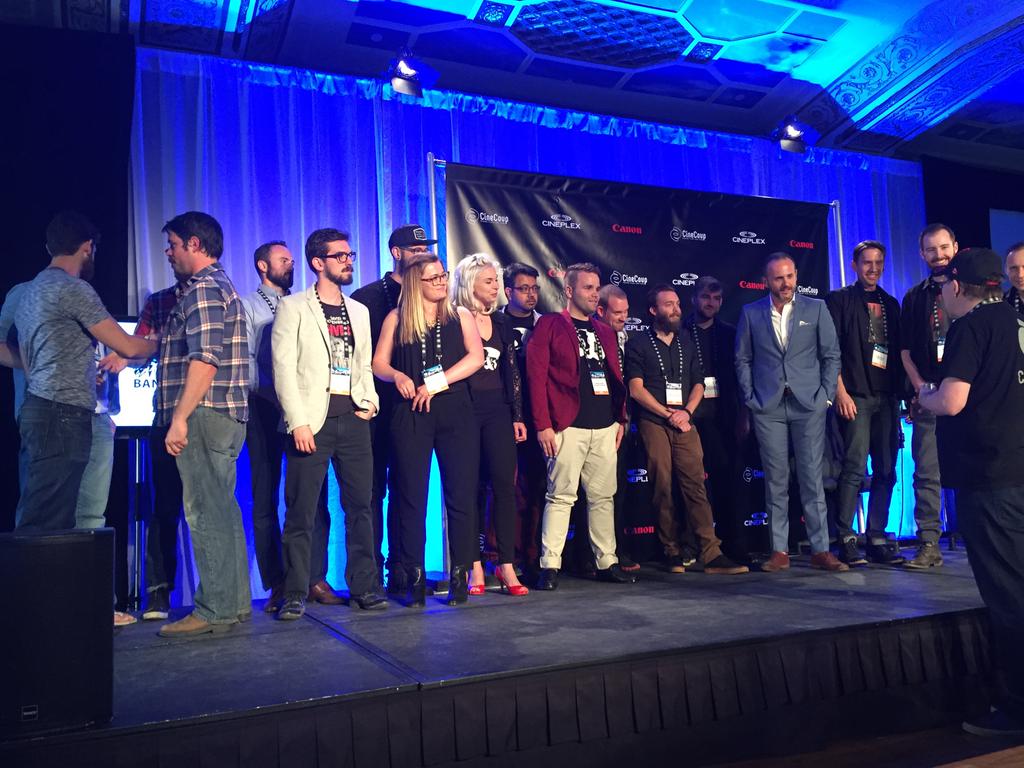 The second CineCoup accelerator sees two projects win $1M in financing for feature film production: Hellmington and High School Brawl.
It was, in a way, the perfect ending to a day which saw panel after panel dissecting the virtues of using data to shape decisions, of capturing the fickle attention of youth and creating fan bases ahead of release.
J. Joly's CineCoup film accelerator wrapped its sophomore round with its $1M Big Deal Pitch Event at the 2015 Banff World Media Festival on Monday, selecting not one but two films to move into production.
The first round saw the company greenlight WolfCop for feature-film development and release, an effort that saw the film release on Cineplex screens across Canada and a $30,000 opening weekend on six screens across Canada.
The two winning projects from the 2015 feature film accelerator are Hellmington and High School Brawl. Hellmington, from Toronto-based filmmakers Alex Williams, Justin Hewitt and Michelle Aseltine, is a faux-documentary style horror-thriller in the vein of Paranormal Activity or Blair Witch Project. It follows two documentary filmmakers investigating the disappearance of Katie Owens, an ambitious young woman selected to take part in an "extreme" haunted house located in a former asylum.
High School Brawl, from Edmonton's Aaron Kurmey, Kevin Johnson and Ryan Hatt, looks at what happens when a bullied, incarcerated teen decides to take on his tormentors. Featuring young actors and taking place in a juvenile detention centre, the film's gritty, raw feel had a big effect on the judging panel, which seemed to like its raw approach but cautioned against the possibility of glorifying teen violence.
How did CineCoup pony up for not one but two $1 million commitments? With returning sponsorship from the likes of Cineplex and Super Channel, the company this year saw Toronto and Calgary-based financier Clairwood Capital board the accelerator as a financing partner.
The CineCoup accelerator model sees teams battle for social media supremacy during a 12-week run of challenges, fan-base building and awareness-generating. The top five teams then battle it out in front of a panel of judges – which this year included producer Dan Goldberg, Cineplex film EVP Michael Kennedy and Susan Curran, executive director of marketing and acquisitions, Anchor Bay Canada – who grill the teams on their concept and how it could go to market.
Hellmington especially offered a fully-formed concept ready for market, complete with viral-ready hashtag (#whathappenedtokatieowens) and a catchy new genre name: "hand-held horror." High School Brawl, on the other hand, looked MTV-ready: gritty and raw, and very much youth-focused. It is, Kennedy warned, a "movie with great responsibility" but also seemed more than any other project, ready to capture the authenticity brought up so often by broadcast execs earlier in the day.
Although a time frame for the film's production was not announced, CineCoup turned around WolfCop within a year of its Banff win. WolfCop 2 is currently in production.