Buck Productions, Patrice Theroux to adapt ReincarNATE
Former eOne exec Theroux has teamed up with Buck Productions to adapt the comic by writer Michael Moreci and illustrator Keith Burns into a one-hour crime drama.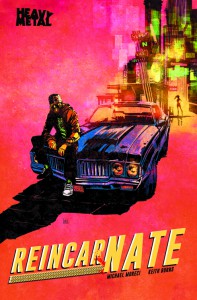 Buck Productions and former eOne executive Patrice Théroux have teamed up to adapt the comic book series ReincarNATE into a one-hour crime drama.
The comic book series, from writer Michael Moreci and illustrator Keith Burns, focuses on private eye Nate McCoy, who after being shot in the head can interact with past versions of himself. The series follows Nate as he taps into the knowledge of his past selves while he takes on the criminal underworld and El Panda, an outlaw who may have been responsible for the death of his father.
The television project is currently in the development stage at Buck Productions, with Théroux and Buck Productions' Sean Buckley to serve as executive producers. James Cooper developed the adaptation and wrote the pilot.
Théroux was formerly the head of eOne's film group before he announced his departure from the company in September 2014. At the time of his departure, it was also announced Theroux would continue to work with eOne through a film and TV development deal.
Moreci's previous comic book credits include Roche Limit, Dawn of the Planet of the Apes and Hoax Hunters, which is currently being developed as a feature film. In November of this year, publisher Heavy Metal is re-releasing all four issues of the ReincarNATE series, with new issues of the series set to be released next year.
Michael Moreci and the ReincarNATE property are represented by Jason Yarn Literary Agency.