Banff '15: Rockie winners announced
Canadian winners at the annual gala include Guidestones: Sunflower Noir, the NFB and Sinking Ship.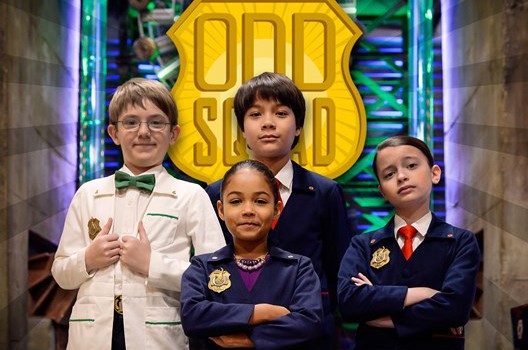 Monday's hot ticket at the Banff World Media festival is always the Rockie Awards Gala luncheon, honouring achievements in screen-based content from around the world.
Canada nabbed four Rockies this year, with Guidestones: Sunflower Noir from 3 o'clock.tv and iThentic in association with Guidestones Productions taking home the Digital Scripted Series prize.
The Francophone category was won by Les Beaux Malaise from Encore Télévision and Matte TV, while the NFB, in association with The Guardian and Jam3, took home the Interactive Nonfiction prize for Seven Digital Deadly Sins.
And finally, Toronto's Sinking Ship continues its winning streak with taking home the Rockies Pre-School category for Odd Squad.
The Rockies winners are selected from a pool of submissions from over 40 countries and are selected by a panel that includes over 350 industry executives from around the world.
The Jury Grand Prize will be announced Tuesday June 9.
Other winners are as follows:
Animation
Munya In Me
Produced by Viking Film in association with VPRO Television
Dutch/The Netherlands
Arts and Performance
Trial of Chunhyang: A Girl Prosecuted By Feudalism
Produced by Korean Broadcasting Systems
Korean/South Korea
Branded Content
LEGO Legends Of Chima
Produced by LEGO CMA in association with M2Entertainment
English/Denmark
Children's Fiction
Raving Rabbids Invasion
Produced by Ubisoft Motion Pictures in association with Nickelodeon
English/France
Children's Non-Fiction
Cracker Snap!
Produced by Tower10 KidsTV in association with ÖSTERREICHISCHER RUNDFUNK and ORF
German/Austria
Digital Series Unscripted
We the Economy
Produced by Vulcan Productions in association with Cinelan
English/USA
Environmental and Wildlife
Toxic Bees – Nature's Mayday
Produced by Taiwan Public Television Service Foundation
Chinese, English/Taiwan
History and Biography
The Great War: The People's Story
Produced by Shiver (ITV Studios Group)
English/Great Britain
Humanitarian and Investigation
Prison Songs
Produced by Beyond West in association with SBS Australia
English/Australia
Interactive Fiction
Dina Foxx – Deadly Contact
Produced by UFA Fiction and UFA Lab
German/Germany
Lifestyle
Trust Me, I'm a Doctor
Produced by BBC in association with The Open University
English/Great Britain
Made for TV Movie
The Witness House
Produced by Moovie and ZDF
German/Germany
Melodrama
Discovery of Love
Produced by Korean Broadcast Systems
Korean/South Korea
Music and Variety
Immortal Songs: The Michael Bolton Episode
Produced by Korean Broadcast Systems
Korean/South Korea
Procedural Drama
How To Get Away With Murder
Produced by ABC Studios
English/USA
Reality
Endless Love
Produced by DocuChina
Chinese/China
Science and Technology
COSMOS: A SpaceTime Odyssey
Produced by Fuzzy Door Productions and Cosmos Studios in association with FOX Broadcasting Company and National Geographic Channel
English/USA
Science Fiction and Action
Outlander
Produced by Tall Ship Productions, Story Mining & Supply Company, Left Bank Pictures in association with Sony Pictures Television
English/USA and UK
Serial Drama
Jordskott
Palladium Fiction for Sveriges Television
Produced by Kinoproduction
Swedish/Sweden
Sitcom
Welcome to Sweden
Produced by FLX in association with Entertainment One Television International
English/Swedish and United States
Sketch and Comedy
En Toen Kwam Ons Ma Binnen (That Awkward Moment)
Produced by Dedsit
Dutch/Belgium
Youth Fiction
Nowhere Boys
Produced by Matchbox Pictures
English/Australia
Youth Non-Fiction
Mensjesrechten: How Ky Turned into Niels
Produced by IKON
Dutch/The Netherlands