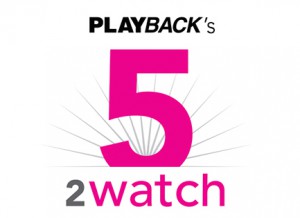 We're looking for the hottest talent in the Canadian screen production industry – and we need you to help us find it.
If you know someone who is a fast-rising star in their career, nominate them here. 
Who qualifies? We are looking for five people who are each "one to watch" in their field. This can be:
- Anyone who has made a significant impact or achieved remarkable success in their field in the first few years of their career. Ideally, this would be less than five years. (We understand that some careers can take longer to gain traction.)
- Age is not a restriction but the length of time they have been working in their field is: people well established in their careers are not eligible, even if their success is more recent.
- All entertainment film/TV/digital related careers are eligible (above and below the line). This includes everything from producers to broadcast TV programmers to lawyers to editors to composers, VFX and animation artists, makeup artists, costume designers, writers, actors and directors.

Think outside the box! We are looking for five people that represent the breadth and diversity of the Canadian industry.
How do I know if my nominee is eligible?
- Take a moment to consider their career path: is their success recent and early in their career?
- Is this person already well-established on the industry's radar? Or is it someone who's about to be on everyone's radar? The latter is what we're looking for.
- If they've won industry awards/accolades for their current profession, are they fairly recent (within the last 2-3 years)?
- Have they been on other similar lists and if so, was that a long time ago? If they are still in the same career, they are likely not eligible.
- Have they changed careers and done remarkably well in their new career? They are eligible. An example is a writer who becomes a director, an actor who turns to producing.
The nomination deadline is JUNE 19 at 5 p.m., so don't delay in submitting your nomination.
The Playback 5 to Watch is presented by Playback magazine in association with the Canadian Film Centre
Playback's 5 to Watch advisory board (subject to change) includes: Martin Katz, president, Prospero Pictures; Sally Catto, GM programming, English TV services; Tara Ellis, ; Jesse Prupas, VP development and distribution, Muse Entertainment; Neishaw Ali, president, Spin VFX; Prem Gill, director, content, Telus; Marguerite Pigott, VP, Outreach and Strategic Initiatives, CMPA; Kathryn Emslie, chief programs officer, CFC.