Deals: Amplify Releasing, Lionsgate, Portfolio
Amplify Releasing has picked up the U.S. distribution rights for Xavier Dolan's Tom at the Farm (pictured), and more deals of the week.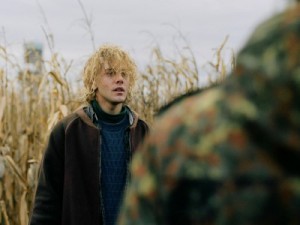 Amplify Releasing
Indie film distributor Amplify Releasing has picked up the U.S. distribution rights to Xavier Dolan's Tom at the Farm. The New York-based co's acquisition – in which Dolan stars, writes and directs – is set for an Aug. 14, 2015 release. In the film, Dolan plays a man named Tom as he grieves over the death of his lover Guillaume, played by Caleb Landry Jones. Tom travels to Guillaume's home city for the funeral, but when he arrives he discovers that the bereaved family know nothing of their relationship. He doesn't tell the family of their connection, but as Guillaume's brother begins to suspect the truth, Tom is drawn into a dark and sexually charged game. The film is produced by MK2 Productions and Sons of Manual. The deal was negotiated by MK2′s Victoire Thevenin and Amplify's Dylan Marchetti.
Lionsgate
Lionsgate has acquired the exclusive Canadian, U.S. and U.K. distribution rights to Tele Munchen Group's The von Trapp Family — A Life of Music. The film, currently in production in and around Salzberg, is directed by Dutch filmmaker Ben Verbong and stars Eliza Bennett (Broadchurch, Nanny McPhee), Matthew Macfadyen (Anna Karenina, Three Musketeers) and Rosemary Harris (Spider-Man 1-3, Tom & Viv). Christoph Silber (Good Bye Lenin) and Tim Sullivan (Letters to Juliet) wrote the screenplay. TM International is handling the film's worldwide sales, with Lionsgate set to release the movie in December 2015. The deal was finalized at this year's Cannes festival by Jim Packer and Marc Danon for Lionsgate and Thomas Augsberger for TMG.
Portfolio Entertainment
Portfolio Entertainment has inked distribution deals for three of its children's animation series. DOKI (26 x 30 minutes) has been sold to Norway's NRK, as well as to TVO and Knowledge Network in Canada. The Toronto-based producer and distributor's preschool series The Cat in the Hat Knows A Lot About That! (20 x 30 minutes) was also acquired by UAE's E-Junior, and RoboRoach (52 x 30 minutes) was picked up by BBC Kids in Canada.
DHX Media
DHX has announced plans to expand the operations of its full-service international licensing agency Copyright Promotions Licensing Group (CPLG) to Greece, Turkey and the Middle East. CPLG has also merged with FWD Licensing to form CPLG MENA (Middle East and North Africa) and License2Brand to form CPLG Turkey & Greece. The company plans to open offices in both Dubai and Athens.
Blue Ice Docs
Blue Ice Docs has acquired the Canadian distribution rights to the feature documentary Dense City. The doc, pitched at the Hot Docs Forum last month, investigates the challenges faced by cities as urban populations increase. Read more about the deal here.
Kratt Brothers Company and 9 Story Media Group
Kratt Brothers Company and 9 Story Media Group's Wild Kratts has added a raft of new licensees to its growing licensing program. Read more about the deal here. 
With files from Patrick Callan, Kidscreen