Sarah Gadon on going behind the camera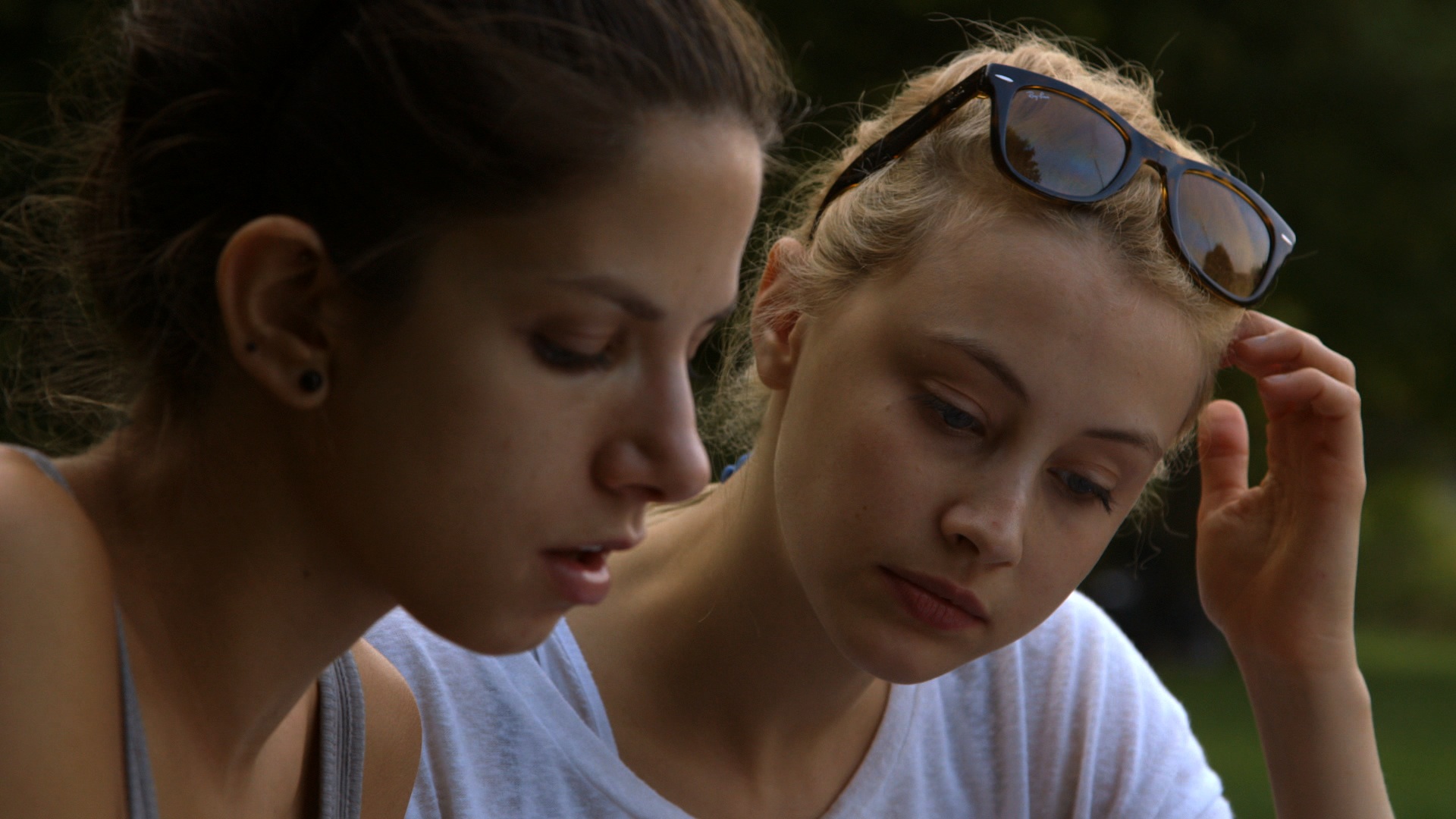 Playback catches up with Gadon to talk about her directorial debut in the premiere episode of Reelside. (Gadon, right, and Caitlin Cronenberg pictured.)
When the producers behind Reelside asked actress Sarah Gadon if she would appear in their new doc series, she was interested – but thought it would be more interesting if she could be behind the camera.
Toronto-based Fifth Ground Entertainment approached Gadon about three years ago to see if she would want to participate in the doc series, which profiles Canadian film and television talent from both in front of and behind the camera . At the time, Gadon said had just finished doing some of her first photo shoots for major U.S. publications, and was grappling issues around how to manage her public persona and image.
"All of those ideas were things I was kind of chewing at the time, so I thought this would be an interesting way for me to…claim some sort of stake in my own image," Gadon told Playback Daily.
Once Gadon was given the greenlight to direct an episode of the series, she reached out to photographer Caitlin Cronenberg to see if she would want to participate in the project. The two had worked together on many film sets by that point and their careers were starting to take off. Gadon wanted to create a project that documented their journeys.
"We were trying to navigate how do we live here, how do we create our own work, how do we gain control over our own work and how do we have power in this industry – these were all kind of questions that I thought would be great [talking points] for other people at that stage of their career," Gadon said.
The half-hour episode Gadon directs, which will bow on June 4 on The Movie Network and kick off the series, follows her and Cronenberg during a photo shoot they do for an Italian fashion magazine in Bruce Peninsula Park. The episode also explores how the pair connected over issues surrounding image-making in film and fashion. Gadon, however, had pitched several ideas that could have worked for Reelside, said Raj Panikkar, executive producer on the series with Fifth Ground Entertainment.
"She took it seriously right from the very start. She had four episode pitches for us – all of them are ones I would have wanted to have done if we had a larger series order," Panikkar told Playback Daily.
While the series features Canadian talent and their collaborations with other artists, Reelside was produced with an international audience in mind, Panikkar said (the series' long production period was due to juggling the schedules of various stars, he noted). Aside from Gadon, celebrities showcased in Reelside include Seth Rogen, Vincenzo Natali, David Hayter and Lloyd Kaufman.
"Our intention has always been to keep a global interest and perspective to the series. The series wasn't meant to be niched into the Canadian market," Panikkar said. Tricon Films and Television is distributing Reelside and will launch sales around the same time as the series debuts on TMN.
Panikkar also noted that the fact Reelside features Gadon's directorial debut has also been used as a selling and promotional point for the series. The host of celebrities attached to the series also gives Bell Media an opportunity to better market Reelside ahead of its release, said Corrie Coe, SVP of independent Production at Bell Media.
"We are definitely leveraging the starpower of the talent involved in the series to help promote it, both through their social media accounts and through interviews with Canadian media," Coe told Playback Daily.
The broadcaster has also launched a mini-site on www.themovienetwork.ca to showcase additional video content during the series' run, and will feature Reelside in the weekly The Movie Network Insider newsletter. The series will also be promoted on TMN's various social channels, including Instagram, Twitter and Facebook.
Reelside is produced by Fifth Ground Entertainment in association with The Movie Network and Movie Central. Richard Crouse, Christopher Szarka and Panikkar are executive producers, with both Szarka and Panikkar also serving as producers on the series. Directors on Reelside are Gadon, Philip Riccio, Taylor Clarke, Matthew Hannam, Matthew Lochner and Panikkar.