Coming Soon: Berkshire County
A71 Entertainment on the marketing and distribution strategy for Audrey Cummings' debut horror feature.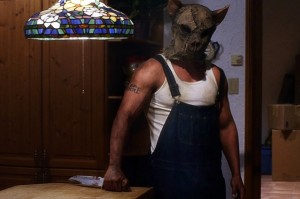 Coming Soon, an ongoing editorial feature from Playback, highlights the distribution strategies for soon-to-be released Canadian films. Here, we speak to A71 Entertainment's Chad Maker and A71 Productions David Miller about the distribution strategy for Audrey Cummings' feature debut, Berkshire Country.
The film: Berkshire County tells the story of a teen girl whose night of babysitting at an isolated country home takes a turn for the worse after a boy in a pig mask appears at the door looking for candy. The film stars Alysa King, Samora Smallwood,  Bart Rochon, Aaron Chartrand and Robert Nolan.
Production credits: Berkshire County is directed by Audrey Cummings, who also served as a producer on the film, along with Bruno Marino. Berkshire County was written by Chris Gamble, and executive produced by A71 Productions' David Miller and Tony Wosk. Canadian distribution of Berkshire Country is being handled by A71 Entertainment, a joint venture of A71 Productions and Agency 71.
Distribution: Berkshire County will screen in 18 Landmark Cinemas across the country as part of the Canadian Indie Film Series program in one-night only events on Wednesday, June 3, to be followed by week-long runs at Toronto's Carlton Cinema, Ottawa's Landmark Kanata, and the Landmark Cinema location in Whitby.  Cummings will be participating in a Q & A session at the screening in Kingston, ON, with the cast attending the June 3 Hamilton screening. Both cast and crew will attend the opening weekend screenings in Toronto at the Carlton Cinema. Additional week-long runs in new cities will be announced at a later date.
Marketing: A71 Entertainment is taking advantage of the audio-visual "fear factor" in Berkshire County, and is promoting the film more heavily on TV and radio over print and social media advertising.  As such, the distributor has made an ad buy with Hamilton-based CHCH, which has a number of stations operating in the southern Ontario regions where the film will screen.
The CHCH ad buy includes TV spots, pre-roll ads for online videos on the CHCH websites and banner ads on their web properties. The distributor has also allocated a number of ad buys with indie radio stations throughout southern Ontario where the film is doing week-long runs to showcase the creepy audio featured in Berkshire County.
"It is the type of thing that if CHCH is playing anywhere – in a restaurant or whatever – it doesn't have to have the audio (on) with that visual to make it a very impactful spot. On the flipside, if you listen to the radio, you get the fear factor without having to see every bit," Chad Maker, president of A71 Entertainment, told Playback Daily.
In addition to doing an ad buy with Toronto's Indie88, the distributor has also partnered with the radio station to give out Berkshire County prize packs via its Superfriend loyalty program. The prize packs include tickets to screenings, posters, concession gift cards for Carlton Cinemas, and passes to Toronto's The Escape Room experience. Other independent radio stations in communities where Berkshire County is doing a week-long run are also running poster and prize pack giveaways, Maker said. The team is using social media to promote the various contests and giveaways associated with the film.
Earlier this year, the distributors also partnered with U.S. genre film magazine and website Fangoria to give the publication an exclusive release on the initial Berkshire County trailer.
"That was a very social media-(focused) strategy to leverage their fan base and get them behind [the film]," Maker said.
Target audience: The primary target audience for the film skews young, in the 15 to 30-year-old range. While Berkshire County appeals to both male and female audiences, David Miller, president of A71 Productions, said he thinks the film may skew slightly more female due to the strong female lead in the film, and a female  director. Maker also noted more women are starting to watch horror films overall.
"What we are finding and [in] talking to people in the horror community, female viewership in on the rise. It is about 50/50 now," Maker said.
Additional windows: Following its theatrical run, Berkshire County will be available on various digital platforms, including iTunes, Google Play and Xbox, by mid-August. It will also be available on a VOD basis from MTS, Sasktel, Rogers Media, Shaw Media and Bell Media.
What makes this film unique: Maker characterized Berkshire Country as "a horror film with a conscience," as it explores messages around bullying and inner strength. He also pointed to the talent behind the lens as another unique factor.
"There are not a lot of horror genre female directors, and Audrey is really looking to establish herself as one of the leaders in that. That community, having seen the film, has given her the stamp of approval with the awards she has won," Maker said. Berkshire County has already earned Cummings a number of awards, including prizes at the Chicago Horror Film Festival, Atlanta's HorrorQuest fest, and the Blood in the Snow Canadian Film Festival.
Updated at 2:53 p.m. to include Alysa King acting credit