Playback Summer 2015 issue now out
A look at what's inside Playback's Summer 2015 issue.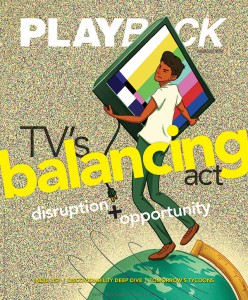 Playback's Summer 2015 issue is now hitting mailboxes across Canada. Our annual TV-themed issue, in this year's we focus on building business in a time of great disruption – but also great opportunity.
Keep an eye on your mailbox for the issue, or check back here to see a selection of stories as they are posted.
The following stories will be posted in the Daily during the coming weeks:
A new play on entertainment: John Barrack and Mark Bishop on their new "amazement park"
Bigger, better, stronger: Four experts weigh in on tips for building stronger prodcos
Discoverability deep dive: Ahead of this fall's CRTC-hosted "Discoverability Summit," Playback puts together its own panel of industry experts
Hall of Fame: Welcomes Degrassi creator Linda Schuyler
Tribute: A look back – and ahead – at four specialty channels on their 20th anniversary