The Next Step leaps onto the big screen
The doc from Temple Street Productions follows eight cast members from The Next Step as they travel across Canada during their first on-stage tour.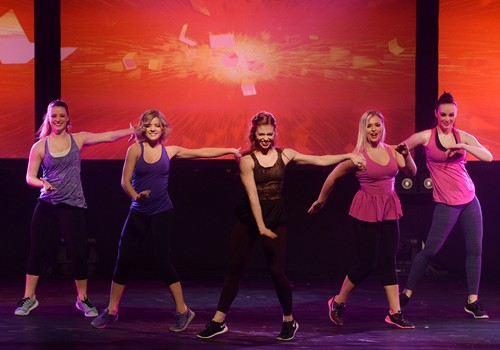 Temple Street Productions' The Next Step is leaping onto the big screen, as the prodco preps The Next Step Live – The Movie for an event release in select Cineplex theatres.
The 80-minute documentary, produced by Temple Street in association with Family Channel, follows the on-stage and backstage experiences of eight cast members from The Next Step as they travel across Canada on the franchise's first live stage tour. The documentary was shot earlier this year, and features behind-the-scenes content, interviews with cast members and footage of the dancers performing and meeting fans.
The documentary will have two screening dates: Saturday, June 27 and Sunday, June 28. Both screenings will occur at 12:55 p.m. in 80 participating Cineplex theatre locations via the company's Front Row Centre Events program.
The team at Temple Street began thinking about how they could build out extra content from The Next Step Live on Stage tour after many of the shows sold out, said John Young, managing director at Temple Street Productions.
Temple Street then met with Cineplex to see how the exhibitor and the prodco could work together to create a theatrical event around the project, and landed on the idea of an 80-minute documentary. Family Channel then came on as the commissioning broadcaster for The Next Step Live – The Movie, and will air the doc after it screens in Cineplex theatres. Marketing for the film ahead of the theatrical release will include promotion from Family Channel over its various digital and linear platforms, marketing from Cineplex and promotion via social media from the various cast members featured in the film.
Currently, Temple Street is in talks with BBC Worldwide to distribute the The Next Step Live – The Movie (BBC Worldwide holds the international distribution rights for The Next Step series). Netflix, Hulu, CBBC and Disney have also expressed interest in potentially picking up the documentary, Young said.
"It is a great brand, it is working very well around the world. I am optimistic that a number of broadcasters will want it to help build their brand," Young told Playback Daily.
The Next Step Live – The Movie announcement follows Family Channel giving The Next Step series a season-four greenlight, with production set to start this summer in Toronto. The first half of season three premiered this March, with the second half of the season set to return to air this summer.
The Next Step Live – The Movie is produced by Temple Street Productions in association with Family Channel. The doc was produced by Ivan Schneeberg and David Fortier.