Laurie Finstad-Knizhnik recognized with Nell Shipman Award
The award recognizes a female producer, writer or showrunner who has worked to advance gender equity in the industry. (Nicole St. Martin (left) and Finstad-Knizhnik pictured.)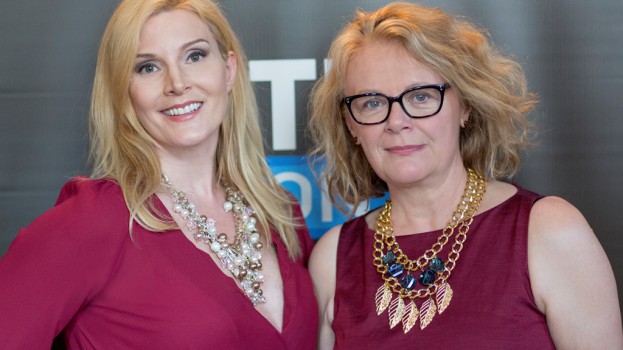 ACTRA Toronto's Women's Committee (TAWC) has named the second recipient of its new Nell Shipman Award: showrunner Laurie Finstad-Knizhnik.
Finstad-Knizhnik took the stage Monday night to accept the honour, which was launched last year by TAWC to recognize a female producer, writer or showrunner who has worked to advance gender equity in the industry. The inaugural award winner was Call Me Fitz creator Sheri Elwood.
Finstad-Knizhnik was recognized for her work on three Canadian productions: Bliss, Durham County and Strange Empire, which aired on CBC last fall through mid-season but was not renewed by the pubcaster for a second season. Strange Empire had a particularly female bent, focusing on the lives of pioneering women in 19th century Canada. With a primarily female cast (10 "prominent" female roles), the series included a significant proportion of women behind the camera as well, including producers, directors and an all-female writers room.
Speaking with Playback prior to the ceremony, she said that the fact that the award came from actors was significant.
"It's really wonderful because I love actors and I put them through hell on a regular basis on all of my shows," she said with a laugh. "They really have to shoulder so much. The roles are not easy. To be recognized like this, especially after this year after the cancellation of Strange Empire is really great."
Finstad-Knizhnik, however, noted that the end of Strange Empire might not be all it's cracked up to. The series' first season has been sold to Netflix and is set to air on Lifetime in the U.S. on May 29. She said she hopes Strange Empire will gain enough traction on a more female-focused specialty like Lifetime that a second-season order could come through.
"I do hold out the hope that Strange Empire will return. I have a second season all planned for that and I want to see those people come together again."
The TAWC ceremony for the Nell Shipman award took place at The Spoke Club in Toronto on May 25.
Pictured: Nicole St. Martin (left) and Laurie Finstad-Knizhnik / Credit: Nanne Springer