Sensitive Skin season two enters production
The Don McKellar-directed miniseries is shooting in Toronto.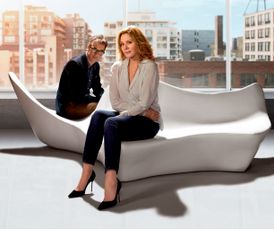 Production has started in Toronto on the six-episode second season of Sensitive Skin.
The series airs on The Movie Network and Movie Central and is scheduled to make its second-season bow in 2016. The first season of the series was released all at once on Bell Media and Movie Central platforms as a test-pilot program for the networks. The programming strategy for the second season has not yet been confirmed, according to Bell Media.
Directed and executive produced by Don McKellar, the new season is written by Susan Coyne (Slings and Arrows), Lynn Coady (Orphan Black) and Rosa Laborde (Léo). It is produced by Rhombus Media and Baby Cow Productions.
Picking up where season one left off, the new episodes follow Davina Jackson, played by Kim Cattrall (Sex And The City), a former model struggling with middle age.
Kattrall, who also exec produces the series alongside Bob Martin, plays Jackson as she relocates from central Toronto to the Toronto Islands.
International distribution of the show's second season will be handled by Tricon Films & Television, with filming expected to wrap at the end of June.