Much Digital Studios goes live, reveals talent
The youth brand's move into the MCN space launches with 13 Canadian YouTubers on the roster.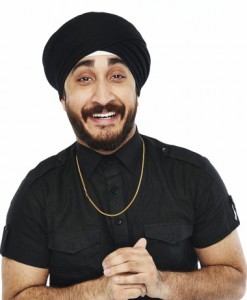 Much is officially in the MCN space as of today, announcing the launch of Much Digital Studios and the content creators who will power it.
The MCN has signed 13 Canadian content creators to its roster, which share 1.4 million subscribers between them.
On the beauty and lifestyle side, those creators include Melissa Merk, AllegraLouise and Mila Victoria; for comedy, Jus Reign (pictured), 4YallEntertainment, The Danocracy, Ron Dias TV and Shane Cunningham and on the music side, Dan Talevsky, SickickMusic and Tyler Shaw. The creator list also includes illusionist Rayn Magic and podcaster Mike Veerman.
The MCN essentially has three components. Each individual creator has their own YouTube channel, as does Much, which features select content from the creator channels. The MCN's talent is also front and centre on a newly relaunched Much.com, which will feature curated channel content and most likely, exclusive content "especially when it's for clients," says Justin Stockman, VP specialty channels, Bell Media.
Brand integrations with YouTube creators have leapt into the forefront of the media space in the past few years, as advertisers seek ways to reach young people less likely to watch traditional TV. But while global MCNs and influencer agencies have played a bigger and bigger role in helping star creators secure those partnerships, Much Digital Studio's USP is in its experience and reach, says Stockman.
"Our big point of differentiation is that…we already do this on a daily basis and we have the amplification with our other media assets. We're not just going to connect you with a creator and they're not just going to make a video for their channel. We're going to be able to manage the whole process for you and then amplify it on linear, across Vevo, across our other digital sites – it's a one-stop shop."
And while brand partnerships are a focus for the MCN, the creators were chosen on their own merits, Stockman emphasizes. Fit with targeted verticals like comedy and fashion/beauty was key, as was diversity – or, in other words, "things that young people in Canada are into but also what they look like." Subscriber numbers were important but not critical, he says, adding that talent that could be developed was as important as well-established talent like Jus Reign. "We think that all these creators will appeal to clients for sure but that isn't necessarily how we made our choices. We made them based on how we will create good content and will connect with our audience because that's what clients are looking for in the long run anyway."