Mohawk Girls greenlit to season three
The Rezolution Pictures dramedy goes into production this week in Montreal.
APTN has announced a third season greenlight for Rezolution Pictures' Mohawk Girls, with filming of six new episodes beginning today in Montreal.
The new season, scheduled for a fall 2015 release, will feature six 30-minute episodes airing in both English and Mohawk on the Aboriginal Peoples Television Network (APTN). The series is filmed in Montreal and in the Kahnawake Mohawk Territory in Quebec.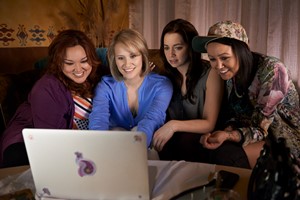 Written by Cynthia Knight and directed by Tracey Deer, Mohawk Girls follows the lives of four Mohawk women as they navigate their 20s while living on the Kahnawake Mohawk reserve. The series stars Jenny Pudavick, Brittany LeBorgne, Heather White and Maika Harper.
Based on Tracey Deer's 2005 documentary of the same name, the show's first two seasons aired back to back on APTN and OMNI Television in fall 2014.
Catherine Bainbridge, Christina Fon and Linda Ludwick are producing the series for Rezolution Pictures, while Catherine Bainbridge, Christina Fon, Linda Ludwick and Ernest Webb are executive producting.
U.S. distributors GRB Entertainment are handling global sales representation.