Melissa D'Agostino wins Cayle Chernin media arts award
D'Agostino (pictured, left, with Cayle Chernin theatre award winner Audrey Dwyer) was one of three finalists up for this year's prize.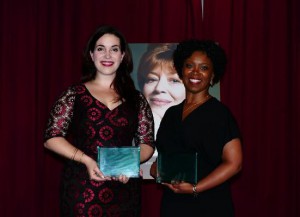 Melissa D'Agostino has won the 2015 Cayle Chernin Award in the media arts category for her short film The Female Front.
D'Agostino was presented the award on Wednesday evening  at an event at The Heliconian Hall in Toronto, which marked the first year prizes were handed out in separate media arts and theatre categories.
The annual award honouring late actress and documentary filmmaker Cayle Chernin is presented  to emerging or transitioning female artists for their creation, development or production of a new work. The media arts award includes a $1,000 cash prize plus an in-kind equipment grant from William F. White International.
D'Agostino's The Female Front tells the story of a woman named Stella whose life is destroyed by a con-man she thought was her boyfriend. She is soon forced to walk the fine line between justice and vengeance when her mother, who leads a vigilante mob, tracks the man down.
D'Agostino said she plans to transform the short into a feature, which she is currently writing the script for. First, however, she wants to get the short on the festival circuit to build up awareness about the project and help secure funding for the feature.
She said she would ideally like to see her short screen at TIFF, although indie-focused festivals are also on her radar.
"Eventually I would love to be at Sundance because…the spirit of indie filmmaking is very alive, especially at Sundance," she said.
Other finalists for this year's Cayle Chernin media arts award included Christine Buijs for the short film Divorce Photographer and Samantha Lawrence for the doc It's Where We Live.
This year's Cayle Chernin theatre award went to Audrey Dwyer for the play Calpurnia. The theatre award  includes  a $1,000 cash prize, and provides the winner with in-kind rehearsal space from Cindy Tanas Actors Studio.