Deals: eOne, Rainmaker, Filmoption, Rhombus and more
eOne announces multiple international sales for Spotlight (pictured), and more deals of the week.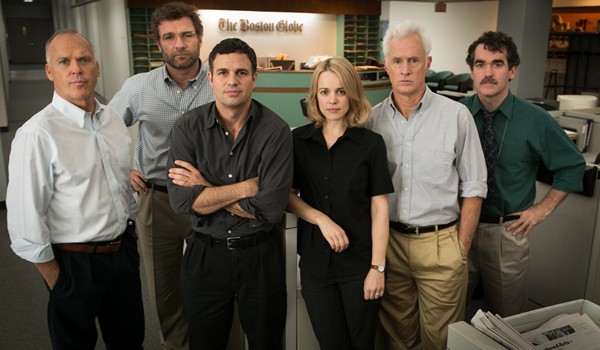 Rhombus Media 
Fortissimo Films has acquired the international rights to filmmaker Stephen Dunn's Closet Monster. Sales for the Rhombus Media and Best Boy Entertainment-produced coming-of-age feature, currently in post-production, are set to begin at the Cannes Marché next week.
The deal, which excludes North America, was negotiated by chairman Michael J. Werner, producers Kevin Krikst and Fraser Ash and exec producer Niv Fichman on behalf of Fortissimo. Elevation Pictures will handle Canadian distribution of the film.
The film stars Connor Jessup (Falling Skies, Blackbird) as Oscar Madley, a troubled teen struggling to fight the demons of his traumatic childhood. Isabella Rossellini also stars alongside Jessup as the voice behind Madley's talking hamster.
Entertainment One
Entertainment One has announced multiple sales for Thomas McCarthy's Spotlight, including a deal with Sony Pictures Worldwide Acquisitions, which will distribute the film in Latin America, Scandinavia, Eastern Europe, Greece, Turkey, the Middle East, Israel and India. Other territories eOne has sold the film into include Portugal, the former Yugoslavia, the Baltic states, South Africa, Hong Kong, Indonesia, Singapore, South Korea, Taiwan and Thaliand.
International sales for Spotlight are handled by eOne in all territories outside of the U.K., Canada, Spain, Benelux and Australia and New Zealand, where it is distributing the film directly. Spotlight is being distributed by Open Road in U.S.
Earlier this week, eOne's boutique sales arm Seville International also sold Xavier Dolan' Juste La Fin Du Monde into several territories ahead of Cannes. Read more about that deal here.
Rainmaker Entertainment
Vancouver-based Rainmaker Entertainment has announced NBCUniversal's Focus Features  has acquired the U.S. distribution rights to the videogame-inspired animated film Ratchet and Clank. International sales for the film, which are being handled by Cinema Management Group, have already been made in 25 territories. Ratchet and Clank is produced Rainmaker, Blockade Entertainment and China's CNHK Media, and is currently slated for a April 29, 2016 release in the U.S.
Filmoption
Filmoption International has finalized sales of its English-language drama Gurov & Anna to Japan's AT Entertainment and South Korea's Line Tree Entertainment. Canadian director Rafaël Ouellet also wrote the screenplay for the film, which stars Sophie Desmarais (Sarah Prefers to Run) and Andreas Apergis (X-Men: Days of Future Past). The deal for the Zone 3-produced film was negotiated by Filmoption's VP of distribution and sales Andrew Noble, with Natsumi Hayashi of AT Entertainment and Line Tree Entertainment president Jay Chung. Filmoption is handling the Canadian distribution of the film, as well as international sales.
Tricon Films and Television
Tricon Films and Television has sold the rights to 21 programs amounting to 500 hours of programming to networks in Europe, Australia and Asia. Home-reno shows Expandables and Flip Addict are among the programs headed overseas. Read more about the deal here.
The Amina Profile
SundanceNow Doc Club has acquired the U.S. distribution rights to Sophie Deraspe's A Gay Girl in Damascus: The Amina Profile.  Read more about the deal here.
Search Engine Films
Toronto-based distributor Search Engine Films has picked up the Canadian rights for French-language feature Standing Tall, likely to hit cinemas in fall of 2015. Read more about the deal here.
Indiecan Entertainment
Indiecan Entertainment has acquired the Canadian and U.S. distribution rights to Jennifer Liao's dark comedy End of Days, Inc., expected to hit theatres in early 2016. Read more about the deal here.
Updated at 3:15 p.m. to include Rhombus Media news