Coming Soon: Wet Bum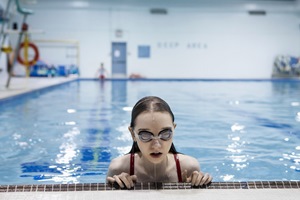 Search Engine Films' Jason Wright on building off word-of-mouth and social media buzz to help promote the coming-of-age tale.
The Film: Wet Bum centres on 14-year-old Sam, played by Julia Sarah Stone (The Killing) an awkward teenager in a small town longing for somewhere to belong. After getting into trouble, she's forced to work at the retirement home her mother runs. The film's title comes from Sam's after-school swimmer, where her love of swimming meets locker-room shyness, causing her to often leave swim practice and head to work in a wet bathing suit.
Production Credits: Wet Bum was written and directed by Lindsay MacKay, and produced by Clique Pictures, Devonshire Productions and Buck Productions. It was executive produced by Daniel Bekerman and Tim Nye, while Sean Buckley, Paula Devonshire, Lauren Grant and Tim Nye served as producers.
Distribution: Indie distributor Search Engine Films holds the Canadian distribution rights to Wet Bum and will also be distributing the film in the post-theatrical window.
Theatrical: Wet Bum opens at the TIFF Bell Lightbox in Toronto on May 15 and in Vancouver on May 29, although a screening venue has not yet been finalized, said Jason Wright, Search Engine Films VP of marketing and operations. Both cities were chosen for two reasons, "number one, [Wet Bum] is sort of a sophisticated, independent film we wanted to screen in major city centres," Wright said, adding that Stone is a Vancouver native and the film first bowed at TIFF, building word-of-mouth in Toronto.
The length of the theatrical run is to be determined, Wright says, and will depend on attendance. Wright said he is also considering expanding Wet Bum's theatrical run into other cities in Canada, depending on how it performs in Toronto and Vancouver.
Marketing: The marketing push behind Wet Bum has been "very hands-on," Wright said. Looking to capitalize on the momentum from good reviews at TIFF, Search Engine has purchased print and online buys in the film's markets, dovetailing with reviews appearing today and over the weekend. Reviews remain important to marketing indies, Wright says: "That audience also still tends to read reviews so we're pushing for review coverage in all the major publications," Wright said.
To attract a younger crowd, promotions and ads will be going up on social media, including Facebook. There will also be Twitter Q&As with the cast of the movie, including Stone on May 13 and director MacKay on May 15. Cast members and former Degrassi stars Craig Arnold and Jamie Johnson will also participate in a Q&A on May 16. The cast has also already done a Q&A via Periscope.
On May 16 and May 17 from 10 a.m. to 6 p.m., free tickets will also be available for the Wet Bum screening at the TIFF Bell Lightbox courtesy of Bell, which Wright hopes will help spread "word of mouth" interest in the film. The Wet Bum ticket giveaway is part of a larger initiative from Bell and TIFF, where all screenings and events at the Lightbox will be free from 10 a.m. to 6 p.m. on May 16 and May 17.
Target Audience: The target audience for Wet Bum is primarily the 25-49 crowd, and older, Wright said. The film's coming-of-age storyline can also attract the young female and male demographic, Wright said. "There are multiple segments that will enjoy the movie," he said.
Additional Window: Wet Bum will bow on Super Channel "in the next couple of months," Wright said, adding that the air date will ultimately depend on how well the film does during its theatrical release. Search Engine Films is also looking to get Wet Bum on VOD and iTunes. While release dates have not yet been confirmed, the film will likely be available on VOD and other digital platforms sometime in the fall.
"With an independent film like this you want to make sure you target things properly versus a massive initial outreach plan. If word of mouth spreads the way we hope it does organically, we want to give as many people a chance to see it theatrically as they can," Wright said.
What makes the film unique: While Wright admits there are "a million-and-one coming-of-age films," he says the cinematography and post production work on Wet Bum are what makes it stand out. "The truth is it's a really intimate personal story but the cinematography, the way the film is shot, the editing on the film, performances in this film, all the things that go into making a film sort of one step beyond the log line, this has them all so it's something you really want to experience," Wright said.
Budget/financing: Wet Bum received financial support from Telefilm Canada, the Ontario Media Development Corporation, the Rogers Telefund, and  federal and provincial tax credits. Super Channel also provided financing, along with equity coming from minority-stake holder, U.S.-based Abbolita Films. The budget of the film was not disclosed.