Season two of Schitt's Creek in production
The comedy from Eugene and Daniel Levy will return this winter to CBC and U.S. net POP.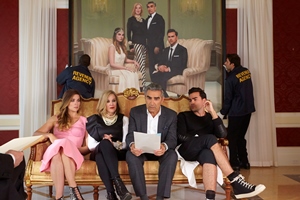 Not A Real Company has announced production has begun on the second season of the CBC series Schitt's Creek.
The comedy is shooting on location and at Toronto's Pinewood Studios and is expected to continue to June 30.
The second season will focus on the Rose family's need to stay in the town of Schitt's Creek after their failed attempt to sell it in season one. Eugene Levy, Catherine O'Hara, Daniel Levy and Annie Murphy will reprise their Rose family roles, with Chris Elliot as the town's namesake scion.
The first season of Schitt's Creek averaged over 1 million Canadian viewers per episode and has recently begun streaming on Netflix. Season two is slated to bow this winter on CBC, and will also air POP south of the border.
Commissioned by the CBC and produced by Not A Real Company Productions, Schitt's Creek is co-directed by Jerry Ciccoritti and Paul Fox and co-created by Eugene and Daniel Levy. The father-son duo also serve as executive producers for the series, along with Andrew Barnsley, Kevin White, Fred Levy and Ben Feigin. ITV Studios Global Entertainment holds the international distribution rights.