Kin Canada signs W Network stars
Maripier Morin (pictured) and Cheryl Torrenueva are set to launch their own channels on the MCN.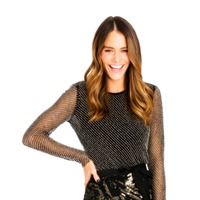 By Bree Rody-Mantha
Kin Community Canada has signed two Corus Entertainment broadcast talents to be the faces of two new channels in its
W Network stars Maripier Morin (Hockey Wives) and Cherryl Torrenueva (Game of Homes) have signed on to front new channels Pardon My French and Simply Cher Cher, respectively.
The channels, the result of a partnership between the Santa Monica-based Kin Community and Toronto-based Corus Entertainment, will be Kin's first channels featuring Corus talent.
The new YouTube channels are an attempt to expose traditional television viewers to a digital platform and vice versa, said John MacDonald, VP, television and head of women's and family networks at Corus.
"Television and YouTube are complementary instead of replacements for one another," said MacDonald, who confirmed that both Morin and Torrenueva will continue their work on their respective television series. "I don't see people leaving television entirely to go to YouTube, nor do I see people leaving YouTube to go to television."
Pardon my French will feature Morin (pictured) and her take on fashion, beauty and lifestyle, while Simply Cher Cher will see Torrenueva offer her perspective on home design, as well as health and beauty tips.
"I think they'll bring with them some television fans, who maybe the experience of working with YouTube and Kin Community is new for them," says MacDonald. He also believes that a new YouTube audience will translate to new television viewers. Currently, MacDonald estimates that the median age of viewers on their TV shows is in the high 40s, and predicts that the YouTube audience will fall more in the mid-30s.
Rick Matthews, senior manager of partnerships with Kin Community Canada says these kinds of channels offer a more authentic experience for viewers, with their stars acting as creators rather than hosts.
"At the end of the day, you are absolutely in control of the content, and you can represent your brand the way you want to," says Matthews.
- From StreamDaily