Gave Lindo named ReelWorld exec director
The former deputy director of business and rights at CBC is now head of all ReelWorld operations, including the annual festival. (Lindo and ReelWorld founder Tonya Williams pictured.)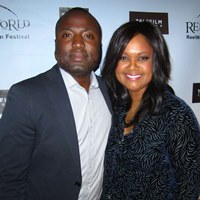 Former CBC exec Gave Lindo has been hired by the ReelWorld Film Festival and the ReelWorld Foundation as the organizations' executive director.
In his new position, which was effective May 1, Lindo is responsible for leading all ReelWorld operations, including the film festival, industry initiatives and year-round public activities. ReelWorld founder Tonya Williams remains president of the organization in an advisory capacity.
The ReelWorld film festival takes place each spring in Toronto and Markham, and the ReelWorld Foundation is a charity that runs a number of professional development programs.
Prior to joining ReelWorld, Lindo was deputy director of business and rights at the CBC, a position he held since 2009. There, Lindo was responsible for negotiating and structuring deals with independent producers and distributors for original scripted programs and films such as Schitt's Creek, The Book of Negroes and Midnight's Children. He was also the lead business executive who oversaw the CBC's children and youth division.