Child actor protections bill passed in Ontario
Bill 17, which passed its third reading in the Ontario Legislature on Thursday, aims to provide stronger protections for non-unionized child performers.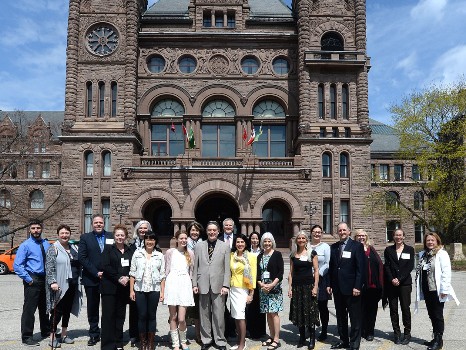 A bill intended to provide stronger protections for non-unionized child performers passed its third and final reading in the Ontario Legislature Thursday.
Bill 17 was introduced by Paul Miller, the M.P.P. for Hamilton-Stoney Creek East and had the backing of numerous industry bodies, including ACTRA Toronto and the Canadian Actors' Equity Association.
The private members' bill, which was passed unanimously, provides specific legislation governing the working conditions of non-unionized child actors when previously only "guidelines" existed, said ACTRA Toronto president David Sparrow.
"It was wonderful today to see all three parties work together to achieve a great goal on behalf of working children in the province of Ontario in the television and film industry, and see them work in a non-partisan way," Sparrow said.
The bill includes provisions around work day and rest periods, updated health and safety rules to better educate children about how to stay safe on set, tutoring requirements and income protection for child actors, whereby 25% of their earnings will be put into a trust they can access upon their 18th birthday. The bill also includes updated rules around supervision of child actors on-set, where in a parent or guardian must supervise the child when they aren't actually working, Sparrow said.
With this new legislation, Sparrow said it enables ACTRA Toronto and other organizations to direct the parents of non-unionized child actors to provincial ministries who can address concerns and issues head-on.
"The most important is that there are now laws to govern this, and there will be a way to follow up when these things aren't properly considered," Sparrow said.
An earlier version of this bill died on the order paper when a provincial election was called, but was reintroduced this past summer. The bill requires Royal Ascent from Ontario's Lieutenant Governor before it officially becomes law.
Photo: ACTRA Toronto and Canadian Actors' Equity Association at Queen's Park to celebrate the passing of the Bill to Protect Child Performers. Credit: Jag Gundu