Tony Elliot, Jason Leaver among WGC Award winners
The Orphan Black and Out with Dad writer/creator, respectively, take home honours from the Writers Guild of Canada. (Elliot pictured.)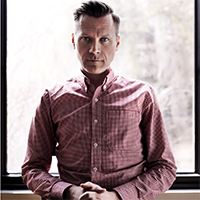 Orphan Black screenwriter Tony Elliott and Out With Dad writer Jason Leaver were among the winners at this year's Writers Guild of Canada Screenwriting Awards, held on Monday evening.
The awards were handed out in a gala event hosted by comedian Ryan Belleville at Toronto's Koerner Hall. Elliot won the screenwriting award in the TV Drama category for his work on the Orphan Black season two episode "Ipsa Scientia Potestas Est," while Leaver took home the prize in the Shorts and Webseries category for the Out With Dad season three episode "Outed."
In the TV Comedy category, Andrew De Angelis received the prize for his work on Mr. D episode "Old School."
In the animation category, Simon Racioppa and Richard Elliot won the prize for their work on the Fangbone episode "The Warbrute of Friendship."  Melody Fox was took home the WGC award in the Children & Youth category for her work on R.L. Stine's The Haunting Hour season four episode "Mrs. Worthington." The screenwriting prize for Documentary went to Michael McNamara for his work on The Cholesterol Question.
Elsewhere, 19-2 executive producer Bruce Smith won the Showrunner Award, while Alison Lea Bingeman, supervising producer and writer for The Pinkertons, won the Sondra Kelly Award. The award provides $5,000 to a mid-career female screenwriter in mid-career to help finance and research a self-initiated project. The prize will go towards helping Bingeman develop her project Emily and Sophie, a feature project about the friendship between artist Emily Carr and Sophie Frank, a basket weaver from the Pacific Northwest's Salish tribe. When accepting her award, Bingeman noted that women are still are largely underrepresented in writer's rooms.
"I can't stress enough the importance of getting our voices out there, especially in experimental ways," Bingeman said at the gala.
The Writers Block Award, which recognizes a record of exceptional service to the Writers Guild of Canada, was given to X Company co-executive producer and writer Denis McGrath.
- with files from Julianna Cummins