Fractured Land breaks ground at Hot Docs
First-time feature directors Fiona Rayher and Damien Gillis hope to attract the attention of international broadcasters and distributors as their doc bows at the Toronto festival.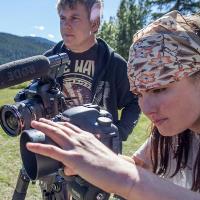 Four years, three countries and one crowdfunding campaign later, first-time feature film co-directors and co-producers Fiona Rayher and Damien Gillis (pictured, left) hope that Fractured Land can break ground at its April 28 world premiere at Hot Docs, where it bowed at the TIFF Lightbox.
The 78-minute documentary tells the story of Caleb Behn, a young First Nations lawyer who takes on the oil industry over the fracking being conducted in northern British Columbia.
While the pair had always planned on making a film about fracking, the filmmakers were drawn toward Behn's story and the film soon became about his coming-of-age while fighting the oil industry.
"We thought that following his trajectory, his personal evolution into becoming a lawyer in the middle of this evolving oil and gas boom would make for a great story. So it has," Gillis told Playback Daily.
Production, however, was not without its challenges.
"Like any documentary, [financial] resource flow was a major challenge. I think a lot of other problems stemmed from that, to be honest," Rayher told Playback Daily. Along with the decision to follow Behn on his journey to becoming a lawyer, securing funding also contributed to the long production length.
"It took four-and-a-half years and we weren't expecting that we'd have to rejig our life and our other work in order to accommodate for making this film… It's not just about what comes in for the film, it's also about what you have to let go of," she said.
According to the co-producer and co-director pair, the documentary was financed out-of-pocket until they received a grant from the British Columbia Arts Council a year into production. Around the same time, the CBC's Documentary channel came on board and provided funding. The CBC French-language channel Explora along with Knowledge Network have also backed it. A crowdfunding campaign for Fractured Land was also launched on Indiegogo.com in late 2012, which raised over $52,000.
Aside from the financial logistics, another challenge the filmmakers faced during production was reaching remote filming locations in the northern British Columbia wilderness where current fracking operations are underway.
"Logistically there was a lot involved with it but we managed to kind of juggle all the different balls and work together and learn as we went and I'm really proud of the film we came up with," Gillis said.
According to Gillis, the remoteness of the filming locations meant they also supplied footage – some of which was shot with drones and infrared cameras – for shows such as the CBC news program The National.
"We supplied footage to a lot of the major broadcasters in Canada who wanted to show people what's going on up there," he said, adding that the doc's production also took the pair to New Zealand and to the U.S., as Behn consulted with the members from the Maori and Navajo tribes.
Sales talks are also currently underway with U.S. First Nations Experience Network, an affiliate of PBS, according to Rayher.
"We haven't quite signed it, but we have a contract on our desk that's been going back and forth," Gillis said.
Gillis also noted that the filmmakers have received a large number of requests for community screenings of the film. Because of this, he would like to see the creation of a community screening program for audiences who otherwise wouldn't be able to see the documentary.
He said he also hopes Hot Docs can serve as an opportunity to connect with other broadcasters and distributors.
"We'd like to see this film widely circulated in Europe, Australia, New Zealand, United States and South America. It may seem like a local story in Canada but the themes are universal," Gillis said.
Mark Achbar (The Corporation) and Charlotte Engel (Mugshot) served as executive producers for Fractured Land. It will screen on Tuesday at 9 p.m. at the TIFF Bell Lightbox and the broadcast premier is set for fall of this year on the CBC's Documentary Channel. The documentary will also air on Knowledge Network and Explora in Quebec at a later date.