Holly O'Brien wins WIFT-T William F. White mentorship award
The Pop-Up Porno producer will receive 10 days of hands-on training and $1,500 equipment grant through the program. (O'Brien pictured.)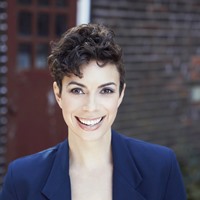 Women in Film and Television – Toronto announced actress-turned-producer Holly O'Brien has won the 2015 William F. White Production Management Mentorship.
In addition to a $1,500 equipment rental grant from Toronto-based equipment supplier William F. White, O'Brien will receive hands-on production training over 10 days from Air Emergency production manager Melinda Ramsay, The Strain and Orphan Black production manager Anna Beben and Guidestones producer Lisa Baylin.
O'Brien said she hopes the training will allow her to become "less of an outsider" when involved in discussions with directors and cinematographers about cost-efficient alternatives for productions. "One of my goals is to become a better partner in those conversations and to actually have something valid and worthwhile to say and to really take an active role in them," she told Playback Daily.
O'Brien said the training will give her the confidence to become a better producer and will also serve as a way to further develop her relationship with the people at William F. White. The supplier provided free equipment for the production of O'Brien's Pop-Up Porno series of shorts, directed by Stephen Dunn, that premiered at the Sundance Film Festival.
"It was amazing because they knew that we were doing it out of pocket and they really support independent film," she said.
The production mentorship program is part of WIFT-T's mandate to support and advance the careers of women in the television and film industry.
"I think it's really important that women become part of the conversation. So often in the past we were just left out because we don't have the knowledge that our male counterparts do in terms of not having been a part of the industry for as long as they have and in as large a capacity," O'Brien said.
O'Brien was awarded the mentorship in recognition of her production portfolio and projects she currently has in development, including the Pop-Up Porno web series tentatively scheduled to launch this summer. She is also currently attached to an upcoming feature film and two TV shows, although she declined to provide more details on those projects.