Boomtowners heads stateside for Smithsonian bow
Partners in Motion's new docu-series on fracking will premiere on the American channel two weeks after its Canadian premiere on T+E.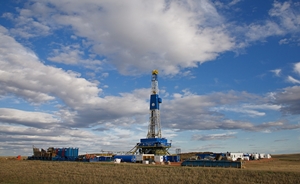 Following its Canadian premiere on Blue Ant Media's T+E channel on April 14, Vancouver-based Partners in Motion's docu-series Boomtowners is now set for a U.S. bow on Smithsonian channel on April 26.
Although Smithsonian was the commissioning broadcaster for the series, with Blue Ant coming in with a pre-licence fee afterwards, Marcia Martin, SVP original content at Blue Ant Media, says it all came down to scheduling.
"We worked hand in hand with Smithsonian and they knew when we wanted it… it's not a problem," she said.
The 6 x 60 minute series follows the lives of people who live and work in Williston, North Dakota as the region turns into one of the leading producers of oil on the planet due to advancements in fracking.
It was produced in association with Smithsonian Channel and Virginia-based Landmark Media Productions and received financing via the Canadian Film or Video Production Tax Credit, the Film Incentive British Columbia tax credit and the state of Montana. It was produced on a budget of around $2 million, said Stecyk.
The idea for the series came from a development brainstorm in which Partners in Motion's execs determined that there was room in the market for a character-driven factual series about North Dakota's Bakken region, an idea that piqued interest at Smithsonian Channel.
"It seemed to tick all the boxes of what Smithsonian was looking for. It's an American phenomenon and it's one of the biggest stories happening right now in a unique area," Stecyk said.
The channel is giving the series top-tier promotion, Stecyk added.
"They only have enough resources to put a lot of publicity and backing into two or three shows a year and [Boomtowners is one of them]. They have high expectations for it," Stecyk explained. "They not only hope that not only will it help widen the demographic of their audience but to help them expand into more of a mainstream genre as well."
Stecyk is the executive producer on the series for Partners in Motion. Production executive for Landmark Media is Peter Hartogs and the executive producers for Smithsonian Channel are Tim Evans, David Royle and Charles Poe. Harmony Distribution is distributing the series.
Photo credit: Tom Reichner / Shutterstock.com