Nova Scotia's film tax credit targeted for possible cuts
The cash-strapped province has put its film and TV production tax break up for review as the finance minister looks to generate more revenue.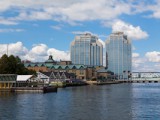 Nova Scotia is the latest cash-strapped province to review its film tax credit, and possibly put the credit's future at risk.
"The finance minister made it clear to us that, despite previous promises to maintain the program, changes are coming," Marc Almon, chairman of Screen Nova Scotia, said in a statement Tuesday after meeting with finance minister Diana Whalen to clarify the future of the incentive.
The meeting followed Whalen, in a March 25 pre-budget speech, warning Nova Scotia was looking to generate more tax revenue, and that the province's film tax credit, which costs around $24 million a year currently, was up for review.
Ahead of the new Nova Scotia budget being unveiled by the provincial Liberal government on April 9, the Screen Nova Scotia industry group quizzed Whalen on her plans for their industry, and didn't come away assured.
"This creates a huge amount of uncertainty in our industry at a time when what is needed is stability, so that we can continue to attract the economic activity generated by the film and TV production sector," Almon said.
The question mark over the film tax credit in Nova Scotia, like similar reviews in Quebec and Ontario, pit a film industry arguing the incentives are an investment in the future against finance department officials seeing a current cost.
"The government's own numbers indicate that this investment program works for Nova Scotians. And yet, minister Whalen still maintains it is a net 'cost,'" Almon said.
Darcy MacRae, a spokesman for Whalen, told Playback Daily that the provincial film tax credit is problematic in that it is not compelling producers to film or pay taxes in Nova Scotia.
"I can tell you that this tax credit costs taxpayers more than $25 million per year and 99% of funds from this tax credit are being paid directly to companies that don't owe taxes in Nova Scotia," MacRae said.
Whalen's spokesman said the finance minister told industry producers that Nova Scotia was borrowing to pay for the film industry tax credit.
"Nova Scotia needs to get to balanced finances, so the province will be better able to seize opportunities for growth and provide a future here for the province's young people," MacRae added.
Quebec last week chose to retain its provincial tax credit for local producers, while Ontario has yet to reveal how it will secure around $60 million in savings to its provincial tax credit program over two years.
Recent film and TV projects to shoot in Nova Scotia and tap its film tax credit include The Book of Negroes, This Hour Has 22 Minutes, Mr. D., Heartbeat, Haven and Call Me Fitz.
MacRae said in 2014, 55 film industry tax credits worth $26.8 million were issued by the provincial government to indie producers.
Eight productions last year qualified for the full 65% of eligible expenditures, which amounted to $8.1 million in tax rebates.
And 23 of the productions, mostly documentaries, that tapped $4.7 million in film tax credit rebates in 2014 did no filming in Nova Scotia, MacRae said.
Almon said his industry group represents around 2000 Nova Scotians who work locally, and who pay taxes in the province.
"Many of those jobs could be in jeopardy," he said.