CMF readies for change in light of Let's Talk
Canada Media Fund president and CEO Valerie Creighton weighs in on how the funder will need to position itself in a changing media landscape.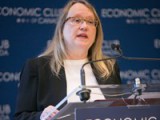 As Canada's media industry continues to wrestle with what exactly the latest Let's Talk TV decisions mean for the future of the business, the Canada Media Fund (CMF) is preparing to take a long look at how it can best support Canadian content going forward, said president and CEO Valerie Creighton.
"This year we are kind of status quo, in a way – moving ahead and continuing to do the same thing while we discuss with the industry and research and investigate and figure out a plan as we move forward over the next three years," Creighton told Playback Daily following a speech she gave at the Economic Club of Canada in Toronto.
To that end, the CMF will be holding a formal consultation process with industry stakeholders and funders this coming fall to help the organization develop policies and programs that make sense in a changing media landscape. For example, the CMF is currently looking at focusing its funding efforts on "landmark content" in a world where financial resources may be reduced and priorities have changed, Creighton said.
While she said it was still early days to say exactly what "landmark content" would look like, Creighton said it could be content – whether digital or more traditional media projects like television shows – that boast a strong story line, good characters and compelling themes.
"There is no assured outcome, but I think the focus is how do we make sure the Canadian content industry has the resources and the ability to still compete internationally as well as it has been doing as our whole environment changes and as consumer choice changes," Creighton said of the strategy.
Going forward, Creighton said the CMF will also be seeking out more collaborations with partners so content creators will have access to more capital and expertise. In March, for example, the CMF announced it was launching an accelerator partnership pilot program with about 20 business accelerators across Canada, with the goal of providing digital projects supported through the experimental stream better access to markets, mentorship and capital.
Once an accelerator chooses a CMF-supported project it would like to work with, the CMF will provide acceleration program funding of up to $30,000. The project creators and accelerator will then enter an agreement, which includes a provision of mentorship and training. In exchange, the accelerator may take an equity position in the creator's company.
Creighton also said the CMF will be looking at how it can better support marketing initiatives for Canadian content, and make sure that any promotion is targeted at the right audiences.
"Everything has changed, so obviously with consumers accessing content the way they are accessing it, one of our fundamental questions as a country with this tsunami of choice… [is] how do we make sure Canadian content is still there and accessible and visible for consumers to make that choice," Creighton said.