Adria Budd Johnson wins WIFT-T Banff scholarship
The award is presented to one WIFT-T member with mid- to senior-level management experience.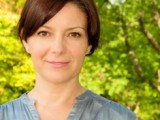 Adria Budd Johnson has been awarded the 2015 WIFT-T Banff World Media Festival Scholarship, the organization announced Wednesday.
The scholarship is presented to one WIFT-T member who has mid- to senior-level management experience, and includes a full delegate pass to attend the Banff World Media Festival to be held from June 7 to June 10.
Budd Johnson is attached as a producer to the dramatic feature In Dios, which is co-written by Eric Johnson and Andrew Genaille with Daniel Iron serving as executive producer. Previously, she produced and handled the digital distributing for Mike Coleman and Eric Johnson's Best Day Ever: Aiden Kesler 1994 – 2011. She has worked in a variety of roles on various film and TV projects, including as a script coordinator and writer.
Budd Johnson will be bringing several projects to Banff she either co-wrote, co-created or served as a producer on including Breaker, a female-lead procedural, A Civil War, a female-centric American Civil War hour-long drama and In Dios.
Last week, In Dois was deemed the runner-up in the Canadian Film Fest's Harold Greenberg Screenplay Contest. As the runner-up, the filmmakers received a pass to the upcoming Toronto Screenwriter Conference.