eOne TV expands marketing, sales team in Europe
Caroline Stott joins eOne from Shine Group where she will take on the role of EVP of marketing, directing the marketing teams in both London and Toronto.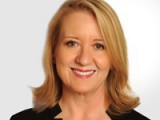 Entertainment One (eOne) Television has expanded its teams in Europe, adding a new EVP of marketing and two sales executives, the company announced Tuesday.
Caroline Stott joins eOne as its new EVP of marketing, effective April 7. In this position, Stott will oversee the studio's international marketing campaigns and strategies. Stott will be based in London, but will oversee both the Toronto and London teams. She will report directly to Stuart Baxter, president of eOne Television International.
Prior to joining eOne, Stott was EVP of global marketing for Shine Group, and also previously held the position of director, global marketing at ITV Studios Global Entertainment and head of marketing at FremantleMedia.
Elsewhere, Sara Ortegon was brought on as a sales executive and will be based in eOne's Madrid office, and will work with Raquel Villa to handle TV sales into the Portuguese and Spanish markets. Karel Lisman was also hired as a sales executive and will be based in eOne's Hilversum office, handling TV sales for the Benelux region. Lisman will report to Jan Kouwenhoven and Wilco Wolfers.