Canadian Film Fest unveils 2015 winners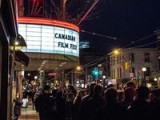 Mars Horodyski's Ben's At Home was named Best Feature at the 2015 edition of the Canadian Film Fest while RT!'s The Time Traveler won the Best Short Award, organizers announced as the Toronto festival wrapped up Saturday evening.
The festival, which ran from March 25 to March 28, showcased a total of eight features and 16 shorts at The Royal Cinema in Toronto. In addition to the prizes picked up by Ben's at Home and The Time Traveler, Joel Ashton McCarthy's Shooting: The Musical won the William F. White Reel Canadian Indie Award, and Shaun Benson's Barn Wedding won the HMV's People's Pick for Best Flix prize.
In the special jury prize categories, McCarthy took home the Best New Voice in Film prize for Shooting: The Musical, with Bruce Novakowski winning the best actor award for his role in the film. Atticus Dean Mitchel won the Best Actor in a Short award for his part in Iris, while Melissa Bergland picked up the award for Best Actress for Relative Happiness. The Best Actress in a Short prize went to Sarah Davis for Lunchbox Loser, and the Best Ensemble Cast award was presented to Barn Wedding. Leah Johnston's Some Things Won't Sleep won the prize for Best Production Design.
The festival was also host to the Harold Greenberg Screenplay Contest. Nicholas Carella and Dave Deveau's Us In Nine Months was named the Grand Prize Winner in the competition, with Eric Johnson and Andrew Genaille's In Dios deemed the runner-up.
The competition is a partnership between the Canadian Film Fest and the Harold Greenberg Fund and is open to Canadian screenwriters who have written a feature-length screenplay. The winners receive $10,000 in development support and feedback on their script from a Harold Greenberg Fund executive. The winner and the runner-up also received passes to the upcoming Toronto Screenwriter Conference.