A71 takes Canadian rights to the Cocksure Lads Movie
The acquisition came as Murray Foster's musical comedy opened the Canadian Film Festival in Toronto. (Foster pictured.)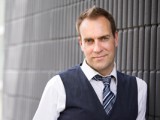 Indie distributor A71 Entertainment has picked up the Canadian rights to Murray Foster's The Cocksure Lads Movie.
The acquisition, ahead of the musical comedy opening the Canadian Film Festival in Toronto, will be followed by a commercial release in August 2015 as part of A71 Entertainment's Canadian Indie Film Series.
Cocksure Lads, about a British band that breaks up over royalties while preparing for a Toronto concert, was written and director by Foster (pictured).
The film debuted at the Whistler Film Festival, and is the 12th acquisition for A71 Entertainment.
Cocksure Lads, from Filmcoop and Spiral Entertainment, is  produced by Foster and Darren Portelli, and executive produced by David Miller, Tamara Doerksen, Avi Federgreen and Andre Bharti.