Why IndieCan is going grassroots for its first U.S. release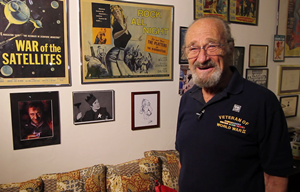 IndieCan Entertainment is taking a grassroots approach to promote its first U.S. release, the documentary That Guy Dick Miller, with the company's founder and president Avi Federgreen looking to leverage fans, friends and theatre owners to help spread the word.
"The only way to be successful with any of these films is everybody – the filmmaker, the distributor – rolling their sleeves and doing a big, fat, good-old fashioned reach out and create a conversation," Federgreen told Playback Daily.
That Guy Dick Miller is a documentary about actor Dick Miller, whose career has spanned six decades and includes 2,000 TV appearances and 175 feature film roles. The doc made its bow stateside on March 6 at L.A.'s Downtown Independent Theatre, and got a positive review from the L.A. Times. Federgreen, however, plans to mostly forego traditional ad buys in the U.S. market, depending primarily rather on the existing networks of the filmmakers attached to the project and the built-in audiences of the indie theaters in which it will screen.
Federgreen says he's confident the pedigree behind many of the film's participants will create strong word-of-mouth. Producer Liane Miller (also Dick Miller's wife), for example, held a high-level executive position at IATSE for many years and is well-connected, Federgreen said, and director Elijah Drenner has his own fan base for his body of work on cult films.
In the U.S., That Guy Dick Miller will open in Dallas, Minneapolis, New York and Detroit starting April 3. Federgreen noted the L.A. Times review also carried a significant earned media value, and may help the film pick up additional screenings stateside.
"A lot of independent theatres look to at the L.A Times and also the New York Times [for] whether or not they should consider a film for theatrical," Federgreen said. In New York, the Anthology theatre is also running a week-long retrospective on Miller's work from April 3 to April 12 including That Guy Dick Miller. Federgreen is also working with a publicist in the U.S. to get the film coverage in New York media outlets.
Back in Canada, IndieCan will do a event-style release for That Guy Dick Miller at the Carlton Cinemas, where it will premiere on March 27. That Guy Dick Miller will have a week-long screening at the Carlton, with Dick and Liane Miller in attendance for the Friday and Saturday night screenings.
Following the last screening of the documentary on Friday and Saturday evening at 7 p.m., IndieCan will also screen two classic Miller films that are now in the public domain: Bucket of Blood and the original Little Shop of Horrors.
To promote the Toronto run, Federgreen is also working with Toronto After Dark and the Blood in the Snow festivals, with Blood in the Snow doing a ticket giveaway for opening night. Leading up to the theatrical release, Justin McConnell of Unstable Ground has also been screening the That Guy Dick Miller trailer ahead of a monthly shorts screening he runs at the Carlton. Federgreen will also do a traditional ad buy to promote the doc.
Federgreen believes That Guy Dick Miller will have a strong life in the post-theatrical window, and the doc is set to be released on VOD, iTunes and DVD in both Canada and the U.S. on May 19. To help sell the film in the film in the post-theatrical window in the U.S., Federgreen has partnered with indie distributor Uncork'd Entertainment. Federgreen said he plans to continue to work with Uncork'd owner Keith Leopard for other titles IndieCan releases stateside.
"I just felt as a filmmaker and distributor, you can give your film to a company and they will take North American [rights], but they don't do the grassroots – it's necessary now, especially for a smaller budget movie," Federgreen said. "For me, I needed somebody physically in the states who has the ability to reach out to the independent audience like I am able to reach them here."
Correction: An earlier version of this story incorrectly stated the film is confirmed to screen in Winnipeg. As of press time, the film was not confirmed to screen in Winnipeg.