Hot Docs unveils Canadian Spectrum, opening night titles
The latest films by Charles Wilkinson, Shelley Saywell and Su Rynard will screen at the April 23 to May 3 documentary festival in Toronto (Rynard's The Messenger pictured).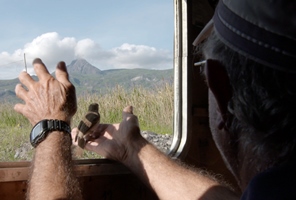 The Hot Docs Canadian International Documentary Festival on Tuesday unveiled the latest films by Charles Wilkinson, Shelley Saywell and Su Rynard as part of its Canadian Spectrum program.
Wilkinson (Peace Out, Oil Sands Karaoke) will bring to Toronto Haida Gwaii: On the Edge of the World, a look at an aboriginal community at risk from a proposed oil tanker route.
Hot Docs also booked Saywell's Lowdown Tracks, about five transient musicians on Toronto streets, and Rynard's The Messenger, which looks at how the disappearance of songbirds might explain environmental devastation.
Also headed to Toronto is Rama Rau's No Place to Hide: The Rehtaeh Parsons Story, about cyber-bullying, and veteran Quebec production designer Andre-Line Beauparlant's Pinocchio.
Hot Docs also booked Danny, Justin Simms and William MacGillivray's portrait of Newfoundland premiere Danny Williams, and Malcolm Ingram's Out to Win, a film about sporting trailblazers. Both Danny and Out to Win will screen in the Scotiabank Big Idea's program.
Hot Docs will also open on April 23 with Kristina Goolsby and Ashley York's Tig, a documentary about comic and cancer survivor Tig Notaro. The film debuted in Sundance and will have its international premiere in Toronto.
The doc festival, to run from April 23 to May 3, will also present separate retrospective of films by Carole Laganiere and Patricio Guzman.