Guidestones: Sunflower Noir big winner at Vancouver Web Fest
Secret Location and Touchpoint Films' Whatever, Linda was another multiple award winner at the festival (Guidestones: Sunflower Noir pictured).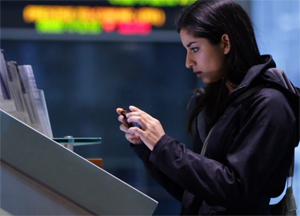 The iThentic and 3 o'clock.tv's digital series Guidestones: Sunflower Noir won for Best Overall series and Best Cinematography at the Vancouver Web Fest, which concluded on Sunday.
And Secret Location and Touchpoint Films' 10-parter Whatever, Linda was another multiple winner, picking up the best Canadian web series trophy, and also won prizes for Best Drama and Best Original Score.
Also competing in the best Canadian series competition was Guidestones: Sunflower Noir, Les Jaunes (Nemesis Films), My Lupine Life (Karma Films, T3 Digital Productions) and Parked (producers Siobhan McCarthy and Tracey Mack). Peter Deluise was named best web series director for Parked.
In all, winners in 23 categories were announced at the awards, including the CBC's Ruby Skye P.I.: The Maltese Puppy earning the best family series trophy and Beanduck Productions LARPs: The Series winning the best comedy series prize.  Geek & Sundry's Caper was named best action/adventure series.
In the acting categories, Joe Sofranko won for best actor for his role in Complete Works, while Hope Lauren earned the best actress trophy for Nasty Habits.
The Vancouver festival also gave KarmaPirate's Dynamo the best foreign web series crown.