Khan nets another $25K for domestic violence doc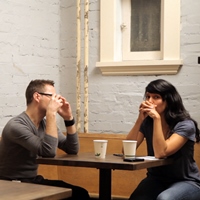 Attiya Khan's domestic violence documentary A Better Man is enjoying sustained momentum as it continues to raise production coin.
Independent angel investors, including high-profile backing from Sarah Polley, got Khan's project significantly over its initial CDN$75,000 Indiegogo crowdfunding goal, to $110,000 in the immediate wake of the CBC/Jian Ghomeshi affair.
Not losing steam, institutional backers are now making an impact, with the latest bucks coming via a $25,000 investment by the Ontario Secondary School Teachers' Federation, it was announced Sunday.
Khan will also be a keynote speaker at a conference hosted by the Ontario teachers group in May, which will focus in part on domestic violence.
A Better Man follows Khan's personal journey over 20 years, from being a teenager in an abusive relationship, to becoming an advocate and activist for domestic violence survivors.
The initial 40-day Indiegogo crowdfunding campaign also snagged other high-profile donations from Feist, Margaret Attwood and Oscar-winning director Alex Gibney.
That support was accompanied by traditional and online media coverage, and substantial social media networking, which helped secure the attention of bigger institutional investors willing to invest directly in the documentary on the strength of public support.
A Better Man has also received a $10,000 loan from the Shaw Media-Hot Docs Development Fund, support from the White Ribbon Campaign and Unifor Canada, and there's also interest from unspecified broadcasters towards eventual license fees, according to the doc's producer Intervention Productions.
Khan and co-director Lawrence Jackman will pitch A Better Man at the Hot Docs market, and have submitted the project to the Hot Docs Forum to reach international broadcasters and distributors.